Free educational resources and workshops
---
It will take a team effort to #EndBullying. That's why we created The Code.
To help #EndBullying, Hockey Canada and TELUS have teamed up to create The Code for the hockey community. An extension of the TELUS Wise program, The Code offers free customized educational tools, resources and workshops to help hockey fans, players and families navigate digital spaces safely and respectfully.


There are three parts to The Code: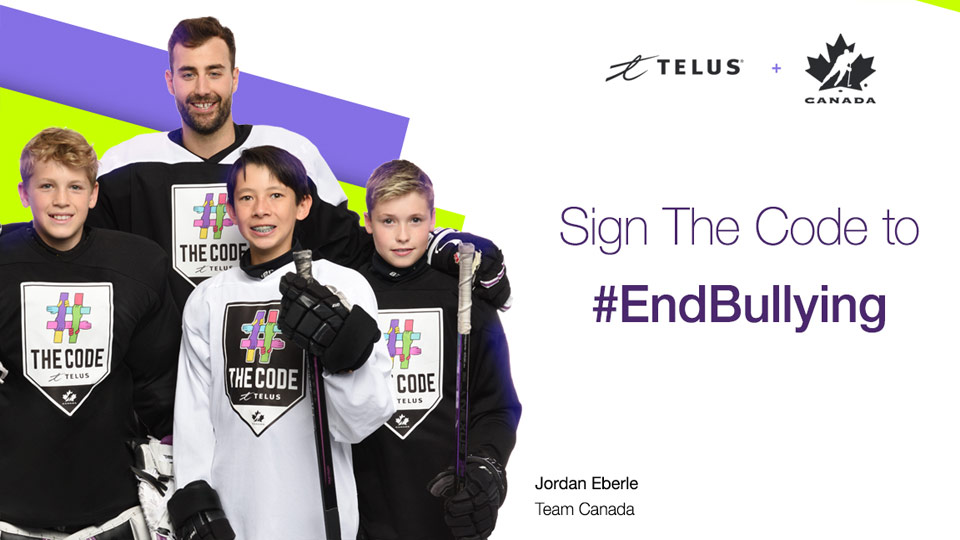 The Code Pledge
The Code is a pledge that every player, fan, coach, parent, official, volunteer or administrator can make to be a good digital citizen and a great teammate.
---
The Code Playbook
The Code Playbook is a free guidebook for hockey players, parents and coaches on how to be a good digital citizen and a great teammate.
Developed in partnership with the TELUS Wise team, Internet safety experts at MediaSmarts, and the hockey leaders at Hockey Canada, The Code Playbook is filled with great tips on how to have fun at the rink and stay safe online.
---
The Code Workshops - NOW AVAILABLE ONLINE
TELUS has partnered with Hockey Canada to create free TELUS Wise Workshops to teach hockey parents, coaches, players and all individuals how to stay safe in our digital world.
To improve accessibility to workshops for the hockey community, The Code adult and youth workshops are now available online. These workshops can be completed individually at home, or the hockey organization can offer workshops in a classroom setting for coaches, parents and volunteers.
Adult workshop topics include how to:
Protect your family's online security, privacy and reputation
Use technology responsibly
Rise above cyberbullying, with special attention to possible scenarios experienced by hockey families

Impactful, engaging, and informative, this workshop is an off-ice clinic for parents, coaches, team administrators, volunteers and all interested adults. This workshop is designed to help the hockey community navigate the complex and quickly-changing digital world.
Youth workshop topics include:
Your digital footprint
The power of posting online
How to stand up to cyberbullying
This off-ice workshop is designed to help young hockey players understand the impact of their digital footprint and that behaviours should not differ from on-ice to online.
---
TELUS Wise
TELUS Wise is a free digital literacy education program that offers informative workshops and resources to help Canadians of all ages have a positive experience as digital citizens. Designed for Canadians of all ages (and non-specific to hockey), workshops are available nationally through the TELUS Wise program.