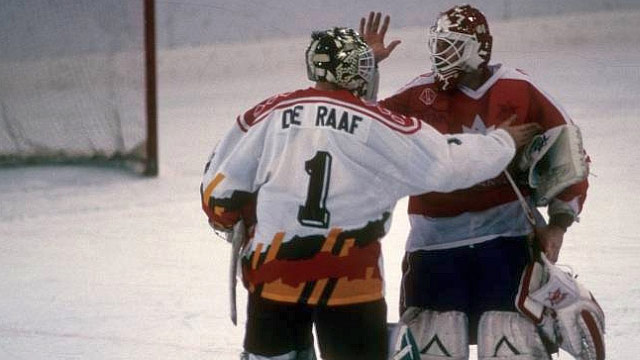 by David Brien
1992 – CANADA 4, GERMANY 3 (SO)
When Canadian hockey fans think of Olympic hockey shootouts, the first that come to mind are the 1998 semifinal loss to the Czech Republic or the 1994 gold medal defeat at the hands of Peter Forsberg and Sweden.
But two years before the loss in Lillehammer, Canada came out on top in the first shootout in Olympic history, a quarter-final victory over Germany at the 1992 Games in Albertville, France.
"We had practiced penalty shots quite a bit but I never imagined it would ever come to life the way it did," recalls defenceman Jason Woolley, who scored one of the three Canadian goals in the shootout. "It was a momentum builder for us at the time."
With the game tied 2-2 after two, Canada looked as if it had taken the lead for good when Kevin Dahl scored with just 6:06 to go, but the Germans answered less than four minutes later, forcing overtime and, eventually, a shootout.
After the first four shooters were unsuccessful, Woolley gave Canada the lead to start off Round 3, wiring a wrist shot over the glove of German netminder Helmut de Raaf.
Just don't ask Woolley to remember the goal.
"We were so focused on winning at all costs. I don't remember much other than Dave King calling my name for the shootout. I was real nervous, until I hit the ice. Then I was ready to shine."
Wally Schreiber and Michael Rumrich traded goals in Round 4, keeping Canada in the lead, but Andreas Brockmann converted the Germans' last chance in Round 5, forcing a sudden death round.
Canada's 18-year-old phenom, Eric Lindros, served as the shootout hero, deftly deking to the forehand to beat de Raaf, and veteran netminder Sean Burke got just enough of Peter Draisaitl's shot, which stopped on the goal line, to send Canada to the semifinals.
OTHER GAMES
1928 – Hugh Plaxton scored six goals to help Canada, represented by the University of Toronto Grads, hammer Great Britain 14-0 in the opening game for both in St. Moritz.
1952 – Canada kept its perfect record intact and hit double-digits in goals for the third time in as many games, getting three goals from George Abel and shutout goaltending from Eric Paterson in an 11-0 win over Poland.
1980 – John Devaney, Kevin Primeau, Paul MacLean, Ron Davidson, Warren Anderson and David Hindmarch had goals and Paul Pageau made 13 saves for the shutout as Canada scored twice in each period to blank Japan 6-0.
1988 – Randy Gregg scored for Canada, but three goals in 6:09 late in the first period were enough for Finland to earn a 3-1 win in Calgary, handing the Canadians their lone preliminary round loss.
1998 – Joe Nieuwendyk and Shayne Corson scored in the first 2:13, Wayne Gretzky had a pair of assists and Canada held Kazakhstan to just seven shots over the final 40 minutes of a 4-1 quarter-final win in Nagano, sending the Canadians to the semifinals.
2002 – Mario Lemieux scored twice and Joe Nieuwendyk tied the game with 3:24 to go as Canada wrapped up a 1-1-1 preliminary round in Salt Lake City with a 3-3 tie with the Czech Republic.
2006 – Canada outshot Switzerland 49-16, including 24-1 in the third period, but two goals from Canadian-born Paul DiPietro and spectacular goaltending from Martin Gerber led the Swiss to a 2-0 victory, their first ever over Canada at the Olympics.
2010 – Dany Heatley and Patrick Marleau had a goal and an assist each in regulation time, and Sidney Crosby scored the lone goal in the shootout as Canada earned a 3-2 win over Switzerland.