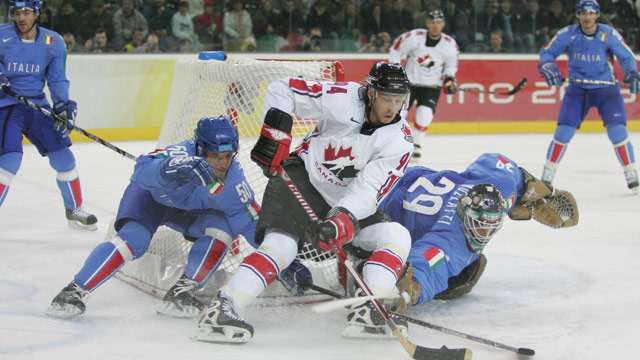 by Wendy Graves
2006 – CANADA 7, ITALY 2
Canada opened defense of its Olympic gold medal with a convincing win over host Italy. Jarome Iginla led the way with two goals, and Dany Heatley, Martin St. Louis and Shane Doan each added a goal and an assist.
The Italian team featured nine Canadian-born players, including starting goaltender Jason Muzzatti. A Toronto native, Muzzatti had suited up for Canada's National Men's Team in the 1990s.
"All Canadian kids grow up wanting to play for Team Canada, so it was a little odd playing against Canada," says Muzzatti. "But my parents were born in Italy and I always wanted to finish my career there, so it was a great honour for me as well."
The Italians played the Canadians tight through the first 20 minutes. The only goal of the opening period came when Iginla finished off a passing play from Todd Bertuzzi and Joe Sakic on the power play.
Forty-three seconds into the second period Italy tied the game on a goal from Montreal-born Giulio Scandella.
"The place erupted," says Muzzatti. "I remember just taking it all in. I had a sense that it might be as good as it was going to get for us. And it ended up being that."
Canada fired 28 shots at Muzzatti and scored five times in the period. John Parco, a native of Sault Ste. Marie, Ont., scored the second Italian goal in the closing minutes of the frame.
Joe Thornton scored the only goal of the third period. Martin Brodeur made 18 saves in the win. Muzzatti – who now runs Just Goalies, a goaltending camp in East Lansing, Mich. – stopped 43 shots for Italy.
Despite the loss, Muzzatti says his team felt proud. "Normally in a 7-2 game you're not feeling great, but we arguably stood up against the defending champs," he says. "We were severe underdogs and we felt pretty good about battling them and making a game of it."
OTHER GAMES
1936 – In a match-up in which neither side took a penalty, Canada defeated Czechoslovakia 7-0 in the final game for both teams, clinching the silver medal for the Canadians. It marked the first time ever Canada had not won Olympic gold.
1952 – David Miller had five goals and an assist and Billy Gibson added four goals and two assists to lead Canada to an easy 15-1 victory over Germany. Canada found the back of the net four times in 48 seconds late in the first period.
1968 – Marshall Johnston, Gerry Pinder and Danny O'Shea scored as Canada blanked Sweden 3-0 and ran its Olympic record against its Nordic opponent to a perfect 10-0.
1984 – After winning its first four games, Canada is shut out for the first time since 1968, falling 4-0 to Czechoslovakia. Mario Gosselin made 32 saves in the Canadian goal.
1994 – Todd Hlushko scored twice and Greg Parks picked up two assists as Canada narrowly defeated France 3-1. Todd Warriner scored the third goal for Canada, and Corey Hirsch faced only 10 shots in backstopping the win.
2002 – Sweden scored five unanswered goals – including four in a 10-minute span in the second period – to beat Canada 5-2 in the opening game for both teams. Rob Blake and Eric Brewer scored for Canada, which outshot Sweden 35-25.
2010 – Meghan Agosta scored twice and Gillian Apps, Cherie Piper and Hayley Wickenheiser added three points each as Canada defeated Switzerland 10-1. The Canadians outshot the Swiss 62-12; Shannon Szabados picked up the win.