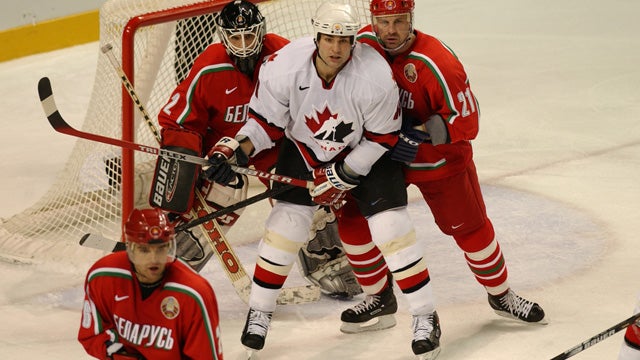 by David Brien
2002 – CANADA 7, BELARUS 1
Steve Yzerman had a goal and two assists, Mario Lemieux added two helpers and seven different Canadians found the back of the net to lead Canada to the Olympic gold medal game with a semifinal win over Belarus.
The Europeans had earned their spot in the final four with a quarter-final victory over Sweden, considered one of the biggest upsets in international hockey history, but there would be no repeat against the Canadians.
"The night before the game, we had a team dinner and talked about (playing for gold)," says Canadian forward Ryan Smyth. "We knew we were lucky to be Olympians, but we were now one game away from getting a chance to bring back a gold medal. Obviously with our history, we knew how exciting that could be."
Canada jumped out to an early lead when Yzerman scored at 6:05, but Belarus fought back to tie the game seven minutes later, with defenceman Ruslan Salei beating Martin Brodeur.
That would be the last puck to find its way past Brodeur, and the Canadian offence took over from there, starting with Eric Brewer's game-winning goal at 17:25 of the opening period.
Scott Niedermayer doubled the lead early in the second period and Paul Kariya gave Canada even more breathing room before 40 minutes were complete. With the Canadians dominating Belarus, holding a 32-9 advantage in shots on goal after two, the third period was anti-climactic.
Simon Gagné, Eric Lindros and Jarome Iginla added goals in the final frame to complete the rout.
In all, seven Canadians scored goals, and 13 had at least a point – a total team effort.
"A lot of lines contributed in that game so it helped everyone settle in," Smyth says. "Guys just seemed to find the right chemistry all through that tournament."
OTHER GAMES
1952 – Canada continued its stifling defence, allowing Sweden just nine shots on goal – the third time in five games the Canadians kept their opponents under 10 – but escape with a narrow 3-2 victory to remain unbeaten.
1960 – Fred Etcher scored 12 seconds apart in the first period, the fastest two Olympic goals ever by a Canadian, and Jack Douglas had a hat trick to help Canada hammer Germany 12-0 in its first medal round game.
1980 – John Devaney scored for Canada, but the three Stastny brothers – Anton, Marion and Peter – combined for 11 points in Czechoslovakia's 6-1 win in the fifth-place game in Lake Placid.
1988 – Merlin Malinowski and Serge Boisvert scored goals and Sean Burke made 28 saves in Canada's 2-2 tie with Sweden to close out the preliminary round and leave the Canadians and Swedes tied with Finland atop Group A.
2006 – Alexander Ovechkin and Alexei Kovalev scored third-period goals, and Canada was shut out for the third time in the tournament, falling 2-0 to Russia in the quarter-finals in Torino.
2010 – Canada booked its spot in the women's Olympic gold medal game for the fourth time in as many tries, getting a goal and an assist from Meghan Agosta, two assists from Jayna Hefford and 11 saves from Shannon Szabados to beat Finland 5-0 in the semifinals.