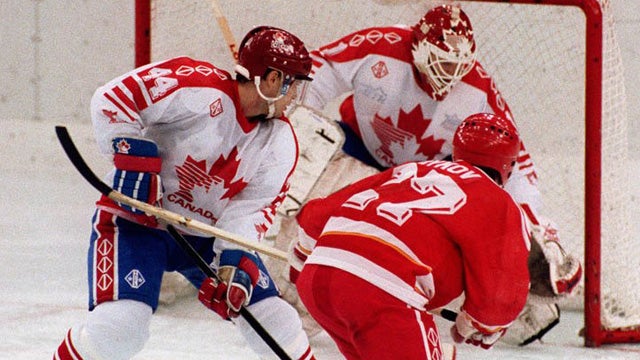 by Wendy Graves
1992 – UNIFIED TEAM 3, CANADA 1
Canada made an appearance in the first-ever Olympic gold medal, falling to the Unified Team, which consisted of players from Russia and the former Soviet republics.
Until the Albertville Games, round robin results determined the medals.
Canada had fallen 5-4 to the Unified Team in preliminary play, the sixth straight time it had fallen to a Russian side. The rematch was a tense affair for the first 40 minutes with no goals but power play chances favouring the team from the former Soviet Union.

"The refereeing was poor for the first two periods," says Canadian forward Joé Juneau. "There was a lot of hooking and holding from the Russians." But Canada found itself on the power play only twice and the penalty kill five times. "It was really the work of [goalie] Sean Burke that kept us in the game."
During the second intermission, Dave King looked to inspire his players. "Our coach brought in an Olympic gold medal [won by the women's short-track speed skating team] between the second and third periods. He never made a speech – he just let us take a good look at the medal."
While the inspiration was there for the Canadians as the third got underway, luck was not. A minute in a Unified Team shot bounced off the boards and back in front of Burke. "Our defencemen never had time to react and cover [Vyatcheslav Butsayev]."
They would score again, doubling the lead as the 16-minute mark approached. Canada would cut into the lead minutes later when Chris Lindberg converted a pass from Juneau. "It made it really interesting all the way to the end," he says, "but it was too little too late."
An insurance goal with just over a minute left in the game iced it for the Unified Team.
The silver was the first medal in men's hockey for Canada since the 1968 Olympics.
OTHER GAMES
1952 – Canada scored twice in the opening two minutes and cruised to an 11-2 win over Norway. Bruce Dickson's goal 25 seconds in and Tom Pollack's at 1:59 are the fastest two goals from the start of the game in Canadian Olympic history.
1994 – Paul Kariya scored six minutes into overtime to give Canada a 3-2 quarter-final win over the Czech Republic. Brian Savage had the other two Canadian goals.
2010 – Fifteen players found their way onto the score sheet as Canada defeated Germany for the 15th straight time at the Olympics, 8-2. Jarome Iginla, who scored twice, Joe Thornton, Shea Weber, Sidney Crosby, Mike Richards, Scott Niedermeyer and Rick Nash had the Canadian goals.