Canada's offence awakens in 7-1 win over Norway at world hockey championship




STOCKHOLM, Sweden - Led by Steven Stamkos and his four-point performance, Canada's vaunted offence emerged at the IIHF Ice Hockey World Championship with a 7-1 win over Norway on Tuesday.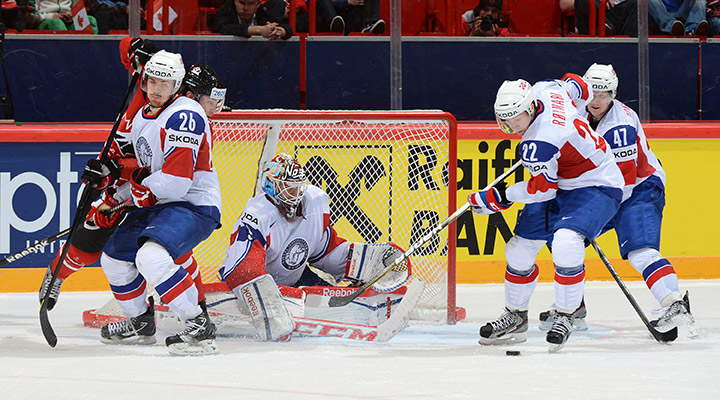 Canada (2-0-1) played its best opening period of the tournament and led by four goals after the opening 20 minutes.
"We stressed coming out in the first period and getting some momentum," Stamkos said.
The Tampa Bay Lightning star, a two-time winner of the NHL's Maurice Richard Trophy that goes to the league's top goal scorer, assisted on three goals in the first period. Stamkos scored in the third.
"You always want to be a difference-maker in every game you play in," he said." I try to pride myself in that and have learned from a lot of good players playing with (them) over the years. The whole team came out ready to play tonight."
Taylor Hall of the Edmonton Oilers collected his first two goals of the tournament.
Winnipeg Jets forward Andrew Ladd, Matt Duchene of the Colorado Avalanche, Carolina Hurricanes forward Jeff Skinner and Philadelphia Flyers winger Claude Giroux also scored for Canada. Hall's Edmonton teammate Jordan Eberle had two assists in front of 3,678 at The Globe Arena.
Oilers goaltender Devan Dubnyk made 13 saves for his second win of the tournament.
Canada was second in the Stockholm pool with seven points. Switzerland led with eight.
Canada faces back-to-back games against host Sweden (2-1) on Thursday followed by Belarus (1-2) on Friday. Denmark (1-2) edged winless Slovenia 3-2 in overtime earlier.
Russia (3-0) downed the United States 5-3 to top the Helsinki pool. Promoted Austria doubled Latvia 6-3 for its first win. The Latvians (0-3) are coached by Canadian and former Buffalo Sabres head coach Ted Nolan.
The top four countries in each pool of eight qualify for the quarter-finals in their respective cities. Canada lost in the quarter-finals in the last three world championships, despite finishing first in their pool the last two.
Norway (2-1) gave goaltender Lars Volden his first start of the tournament after Lars Haugen earned a pair of wins. Ken Andre Olimb scored in Norway's first loss in Stockholm.
The international experience and talent of Canada's forwards is the strength of the team. But Canada's 22 players had just three practices together prior to their first game here.
The NHL's lockout-shortened regular season ended three weeks later than usual. The players arrived just three days before their first game of the world championship.
The Canadians had sluggish first periods and trailed by a goal in both a 3-1 win over Denmark and a 3-2 shootout loss to Switzerland to open the tournament.
Canadian head coach Lindy Ruff felt his team was playing too much "after you" hockey and encouraged his forwards to pass less and shoot more.
Canada dominated the opening period Tuesday, scoring first for the first time and outshooting Norway 13-1.
"We wanted to be real aggressive in the offensive zone," Ruff said." I think the important part is we were getting the first opportunity but it was followed up by a quick second opportunity."
"We played a better first period, which I think made the difference."
Canada had more than one forward driving the net in Norwegian territory and that put pressure on the flanks of Volden.
"The more times we get out there with each other and communicate with each other, the more comfortable guys are going to be with the puck and knowing where guys are," Skinner said. "I think that's what you saw today."
The Norwegians are ranked No. 8 in the world behind Canada at No. 5. The two countries will be in the same pool at the 2014 Winter Olympics in Sochi, Russia, next year along with Finland and Austria.
Stamkos and Eberle opened up ice for their teammates in the offensive zone with hustle, vision and skill. Stamkos dived to execute a goal-mouth pass for Ladd to finish on the important first goal for Canada at 4:45.
Eberle sent a backhand pass from the backboards out to Hall alone in the slot for his first goal early in the second.
On Canada's third goal scored by Duchene, Eberle took three strides in from the blue-line to draw Norwegian defenders to him. He shovelled a backhand pass over to the Avs' forward for Duchene's third goal of the tournament.
"With only three practices before, sometimes it's tough to get going with a lot of new people, but we're getting there and I felt today was a step forward," Stamkos said.
Notes: Canada is 20-1 all time versus Norway in world championship games with the lone loss a 4-3 decision in 2000 …. Norwegian defenceman Ole-Kristian Tollefson, a former Columbus Blue Jacket, and forward Marius Holtet did not play Tuesday because they were serving one-game suspensions …. Danish captain Patrick Thoresen is a former Edmonton Oiler
Game Information
Game Number
24
Round
Preliminary
Arena
Globe Arena

City, Country
Stockholm, SWE

Date
Tuesday, May 7, 2013

Time
02:15 p.m. ET

Attendance
Game Status
Final
| Box Score/Compte | 1 | 2 | 3 | Final |
| --- | --- | --- | --- | --- |
| NOR | 0 | 1 | 0 | 1 |
| CAN | 4 | 1 | 2 | 7 |
Goals & Penalties/ Buts et pénalités
First Period/Première période
Goals/Buts:
04:45 CAN Andrew Ladd (Steven Stamkos)
13:07 CAN Jeff Skinner (Steven Stamkos)
16:57 CAN Matt Duchene (Jordan Eberle, Stephane Robidas)
18:04 CAN Claude Giroux (Justin Schultz, Steven Stamkos) PP/AN

Penalties/Pénalités:
00:29 NOR Patrick Thoresen (Holding/Retenir)
08:43 CAN Claude Giroux (Slashing/Coup de bâton)
15:14 CAN Claude Giroux (Hooking/Accrocher)
16:26 NOR Morten Ask (Slashing/Coup de bâton)


Second Period/Deuxième période
Goals/Buts:
02:28 CAN Taylor Hall (Jordan Eberle)
10:24 NOR Ken Andre Olimb (Anders Bastiansen, Mathis Olimb)

Penalties/Pénalités:
03:06 NOR Daniel Sorvik (High Sticking/Bâton élevé)


Third Period/Troisième période
Goals/Buts:
04:32 CAN Steven Stamkos (Claude Giroux, T.J. Brodie)
12:35 CAN Taylor Hall (Matt Duchene, Ryan O'Reilly)

Penalties/Pénalités:
05:20 CAN Eric Staal (Hooking/Accrocher)
05:34 NOR Patrick Thoresen (Tripping/Faire trébucher)
09:23 NOR Ken Andre Olimb (Interference/Obstruction)
18:37 NOR Daniel Sorvik (Hooking/Accrocher)


Goaltenders/Gardiens de but
NOR
Lars Volden

CAN
Devan Dubnyk

| Shots on Goal/Tirs au but | 1 | 2 | 3 | Total |
| --- | --- | --- | --- | --- |
| NOR | 1 | 9 | 4 | 14 |
| CAN | 13 | 10 | 13 | 36 |