Canada takes another step forward at world championship with 3-0 win over Sweden



STOCKHOLM, Sweden – Canada took advantage of overtaxed Sweden for a 3-0 win at the IIHF World Championship on Thursday, and felt they should have done more damage.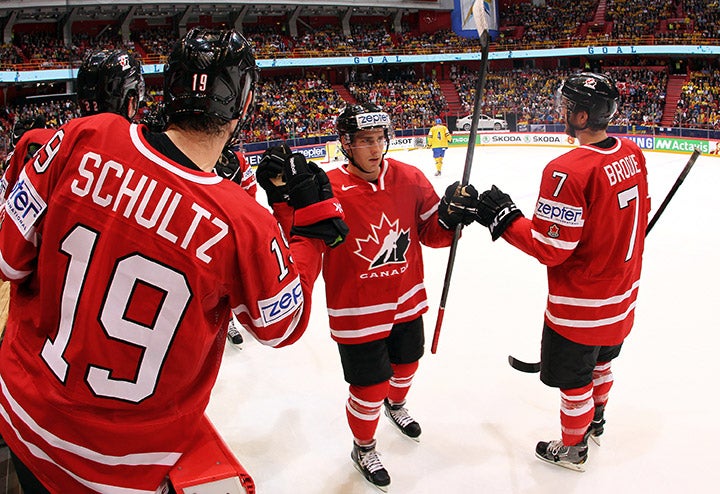 "We didn't finish some opportunities we'd like to finish that could have put them down early in the first," Canadian coach Lindy Ruff observed following the game. "You're thinking 'boy, we left a lot on the table.' "
Buffalo Sabres goaltender Jhonas Enroth robbed Canadians on several excellent looks in the first two periods.
It was Canadian Mike Smith's turn for heroics in the third. The Phoenix Coyotes goalie stopped 17 shots in the period en route to a 33-save shutout and his first win of the tournament.
"If not for their goalie, we would have won about seven or eight nothing, I think," forward Matt Duchene said. "We had a great performance in goal by Smitty and we had a lot of chances."
Steven Stamkos of the Tampa Bay Lightning, Philadelphia Flyers defenceman Luke Schenn and Carolina Hurricanes forward Jordan Staal scored goals in the first two periods for Canada. Matt Read of the Flyers had two assists in front of an announced sellout of 12,500 at the Globe Arena.
Canada (3-0-1) vaulted over Sweden into second spot in the Stockholm pool. Unbeaten Switzerland led with 11 points followed by Canada with 10 and the Swedes with nine. Norway was fourth with six.
Canada faces Belarus (1-2) on Friday for a second game in as many days. The Czech Republic (1-2-1) got by Denmark 2-1 in a shootout, but remained fifth in the Stockholm pool with five points.
France shocked Russia 2-1 in the Helsinki pool with Antoine Roussel of the Dallas Stars scored winning goal in the second period.
The Russians remained tied with the United States for first at nine points each. Finland was second with eight points ahead of France and Slovakia tied with six apiece. Latvia downed the Slovaks 5-3 on Thursday.
The top four teams in each pool of eight qualify for the quarter-finals in each city. Canada lost quarter-final games the last three years at the world championship despite finishing first in its group the last two.
Ranked No. 4 in the world, Sweden was No. 5 Canada's highest-ranked opponent yet. The Swedes were getting their feet back under them with three wins after an opening loss to the Swiss.
But after beating Norway 5-1 the previous day, the Swedes were slow to get into the game against Canada. The Canadian attack poked holes in their defence and left Enroth exposed several times.
"Canada won this game, in my opinion, a little bit too easy," Swedish coach Par Marts said. "It could be the game yesterday, I don't know."
"But I don't see that we competed with them and if you're going to compete with that good team you're going to need as close to 100 per cent from every player. I didn't see that today."
The Swedish fans grew restless during the game and there were boos in the final minutes
Canada's special teams were integral in the victory Thursday. The Canadians scored first with a power-play goal by Stamkos and held the Swedes scoreless on three chances with an extra attacker.
The Canadian power play was an unimpressive 14 per cent going into the game, but that first goal was a work of art. Justin Schultz, Brian Campbell and Claude Giroux snapped the puck around the offensive zone with precision and Stamkos finished it with a one-timer from his right knee.
Enroth foiled Stamkos, Duchene, Taylor Hall and Eric Staal on juicy opportunities even strength in the first period. After 22 saves on 25 shots, Enroth was replaced with just under 10 minutes remaining in the third period by Jacob Markstrom, because of dehydration.
Ruff coached Enroth in Buffalo until the Sabres fired the Canadian coach in February.
"I thought he was fabulous," Ruff said of the Swede.
Canada had just three practices prior to this tournament because the NHL's lockout-shortened regular season ended three weeks later than usual. The team took another step forward in its adjustment to the wider, international ice Thursday.
Staal scored his first goal of the tournament on odd-man rush with Ryan O'Reilly of the Colorado Avalanche.
"I've been fighting the puck a little bit the first few games," Staal, the younger brother of Canadian captain Eric Staal. "It's always nice to chip in and get that big insurance goal for our team."
Read's feed from the opposite boards to Schenn in full stride off the blue-line resulted in Canada's second goal of the game.
"After you play two or three games and watch a little video, things kind of start clicking," Read said. "You don't have to think anymore. You let your natural talents take over."
Sweden is anticipating the arrival of Vancouver Canucks forwards Daniel and Henrik Sedin and defenceman Alex Edler. Marts expects them to play in Sweden's final preliminary-round game Tuesday against Denmark.
Ruff said there would be discussions later Thursday on adding Canucks to the Canadian roster, which is at 22 of the maximum 25. Canucks defenceman Dan Hamhuis won a gold medal in 2007 and silver medals in 2008 and 2009 with Canada at world championships.
Notes: Canada has faced Sweden more than any other country in 62 world championship meetings and has a record of 32-25-5 … The Czech Republic added Winnipeg Jets goaltender Ondrej Pavelec to its roster Thursday. He was in net for the shootout win over the Danes.
Game Information
Game Number
32
Round
Preliminary
Arena
Globe Arena

City, Country
Stockholm, SWE

Date
Thursday, May 9, 2013

Time
02:15 p.m. ET

Attendance
Game Status
-
| Box Score/Compte | 1 | 2 | 3 | Final |
| --- | --- | --- | --- | --- |
| CAN | 1 | 2 | 0 | 3 |
| SWE | 0 | 0 | 0 | 0 |
Goals & Penalties/ Buts et pénalités
First Period/Première période
Goals/Buts:
08:56 CAN Steven Stamkos (Brian Campbell, Justin Schultz) PP/AN

Penalties/Pénalités:
08:35 SWE Johan Fransson (Tripping/Faire trébucher)
10:20 CAN Jeff Skinner (Hooking/Accrocher)
12:23 SWE Martin Thornberg (Hooking/Accrocher)


Second Period/Deuxième période
Goals/Buts:
00:55 CAN Luke Schenn (Matt Read, Eric Staal)
13:00 CAN Jordan Staal (Ryan O'Reilly, Matt Read)

Penalties/Pénalités:
10:52 CAN Jordan Staal (Tripping/Faire trébucher)


Third Period/Troisième période
Goals/Buts:
None/Aucune

Penalties/Pénalités:
00:21 CAN Claude Giroux (Tripping/Faire trébucher)
03:42 SWE Fredrik Pettersson (Hooking/Accrocher)
20:00 CAN Wayne Simmonds (Charging)
20:00 SWE Staffan Kronwall (Roughing/Rudesse)


Goaltenders/Gardiens de but
CAN
Mike Smith

SWE
Jhonas Enroth Out/3rd 10:48, Jakob Markstrom In/3rd 10:48

| Shots on Goal/Tirs au but | 1 | 2 | 3 | Total |
| --- | --- | --- | --- | --- |
| CAN | 13 | 9 | 5 | 27 |
| SWE | 8 | 8 | 17 | 33 |