Canada's National Women's Team drops exhibition game to U.S. 3-2 in shootout

ST. PAUL, Minn. – Kevin Dineen is still looking for his first win as head coach of Canada's National Women's Team, but after nearly completing a comeback victory over the United States on Saturday, he says he's comfortable with the ability of his new squad.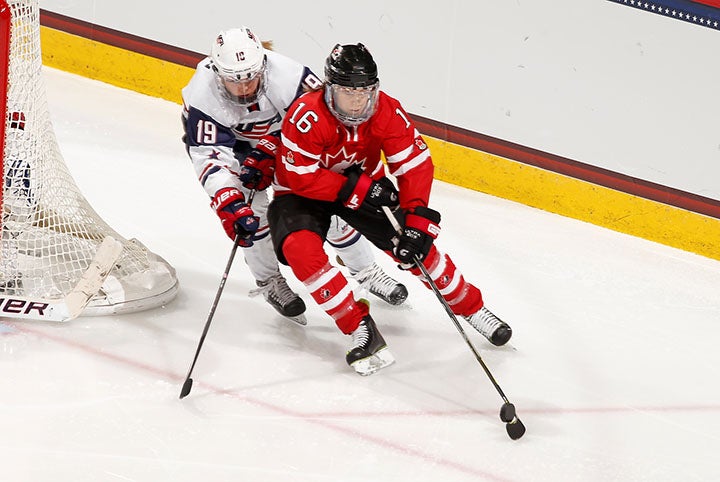 Canada rallied with third-period goals from Marie-Philip Poulin (Beauceville, Que./Boston University, HE) and Meghan Agosta-Marciano (Ruthven, Ont./Montreal, CWHL) to tie the game and force overtime before American Hilary Knight scored the winner in a shootout to lift the U.S. over Canada 3-2, and take a third straight victory in their six-game pre-Olympic exhibition series.
Dineen, who replaced Dan Church as head coach after Church stepped down unexpectedly two weeks ago, was behind the bench for Canada's 4-1 loss to the U.S. in Grand Forks, N.D., last week.
"We set a standard today for how we have to play. I thought we had a good tempo to our game, and we're just looking for our baseline," Dineen said. "I was not impressed with our game in North Dakota. I think we were totally outworked and outplayed and certainly outcoached.
"Tonight we had a lot better symmetry, chemistry, but we had more than that. There was a good intensity that gave us an opportunity to win the game."
Kelli Stack and Alex Carpenter scored for the Americans, while goaltender Jessie Vetter stopped 37 shots in regulation time and overtime.
Agosta-Marciano opened the scoring for Canada off a pass from Hayley Wickenheiser (Shaunavon, Sask./University of Calgary, CIS) at 8:36 of the third period, and Poulin made it 2-2 less than two minutes later on the power play.
Poulin, who scored both of Canada's goals in a 2-0 win over the U.S. in the final of the 2010 Olympic Winter Games in Vancouver, B.C., made her first appearance of the exhibition series after spraining her ankle in September.
"It felt pretty good to put that jersey on and go out there with my teammates, but it's not the result that we wanted," Poulin said. "It was a good comeback in the third, but a tough loss in the shootout.
"The last two games they came at us pretty hard and it was two tough losses. Today we wanted to go out there and play our game as hard as we could and that's what we did in the third."
Dineen says he was happy to have Poulin back out on the ice.
"She showed the skill set that makes her the special player that she is, and with her in the lineup I think we're a stronger team," he said. "It was good to get her and Hayley Wickenheiser back."
Canada's Charline Labonté (Boisbriand, Que./Montreal, CWHL) stopped 27 shots, including a spectacular save that kept the game tied with under three minutes to go. Labonté robbed Brianna Decker by sliding across the crease to kick the puck away with her right leg.
Though Canada's Olympic roster is set, Labonté is fighting for the starting goalie job along with Shannon Szabados (Edmonton, Alta./Northern Alberta Institute of Technology, ACA) and Geneviève Lacasse (Kingston, Ont./Boston, CWHL).
"(Labonté) was unbelievable tonight," Dineen said. "There's still a little dispute in net as to how that's going to all figure out, but I think they're doing a good job of making the statement that they want to be in the mix come February."
Canada plays the U.S. in the final game of the exhibition series at Air Canada Centre in Toronto, Ont., on Monday, Dec. 30. Watch live on TSN and follow Canada's National Women's Team at www.HockeyCanada.ca/NWT, www.Facebook.com/HockeyCanada and www.Twitter.com/HC_Women.
Game Information/Renseignements sur le match
Game #/Match no

5
Round/Ronde
-
Arena/Aréna
Xcel Energy Center
Location/Lieu
St. Paul, Minn.
Date
Saturday, December 28, 2013
Time/Heure
16:00
| Box Score/Compte | 1 | 2 | 3 | OT | SO | Total |
| --- | --- | --- | --- | --- | --- | --- |
| CAN | 0 | 0 | 2 | 0 | 0 | 2 |
| USA | 1 | 1 | 0 | 0 | 1 | 3 |
Goals & Penalties/Buts et pénalités
First Period/Première période
Goals/Buts :
13:56 USA Kelli Stack (Hilary Knight)

Penalties/Pénalités :
01:42 USA Brianna Decker (Rouging/Rudesse)
04:40 CAN Jocelyne Larocque (Interference/Obstruction)
08:45 USA Lee Stecklein (Holding/Retenir)
09:06 USA Jocelyne Lamoureux (Boarding/Donner de la bande)
Second Period/Deuxième période
Goals/Buts :
19:51 CAN Alex Carpenter (Hilary Knight, Megan Bozek) PP/AN

Penalties/Pénalités :
05:24 CAN Jennifer Wakefield (Body-checking/Mise en échec corporelle)
05:45 CAN Gillian Apps (Charging/Assaut)
09:22 USA Brianne Decker (High-sticking/Bâton élevé)
13:52 USA Lyndsey Fry (Hooking/Accrocher)
19:24 CAN Haley Irwin (High-sticking/Bâton élevé)
Third Period/Troisième période
Goals/Buts :
08:36 CAN Meghan Agosta-Marciano (Hayley Wickenheiser)
09:50 CAN Marie-Philip Poulin (Courtney Birchard, Catherine Ward) PP/AN

Penalties/Pénalités :
03:51 USA Gigi Marvin (Hooking/Accrocher)
08:31 CAN Haley Irwin (Roughing/Rudesse)
08:31 USA Josephine Pucci (Body-checking/Mise en échec corporelle)
09:10 USA Anne Schleper (Body-checking/Mise en échec corporelle)
13:05 CAN Jocelyne Larocque (Interference/Obstruction)
13:14 USA Kelli Stack (Slashing/Coup de baton)
Overtime/Prolongation
Goals/Buts :
None/Aucun

Penalties/Pénalités :
None/Aucune
Shootout/Tirs de barrage
CAN Jayna Hefford - NO GOAL/AUCUN BUT
USA Hilary Knight - GOAL/BUT
CAN Caroline Ouellette - NO GOAL/AUCUN BUT
USA Alex Carpenter - NO GOAL/AUCUN BUT
CAN Meghan Agosta-Marciano NO GOAL/AUCUN BUT
Goaltenders/Gardiennes de but
CAN
Charline Labonte
USA
Jessie Vetter
| Shots on Goal/Tirs au but | 1 | 2 | 3 | OT | Total |
| --- | --- | --- | --- | --- | --- |
| CAN | 11 | 8 | 18 | 2 | 39 |
| USA | 9 | 10 | 6 | 4 | 29 |