Solid second period can't stop Strathmore from edging Canada in shoot-out
by Kristen Lipscombe
CALGARY, Alta. – First it was veteran National Women's Team forward Hayley Wickenheiser (Shaunavon, Sask./University of Calgary, CIS) with a goal, less than a minute into the second period.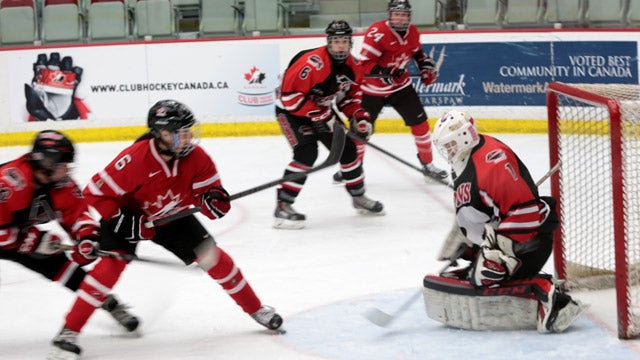 Then up-and-coming Team Canada forward Rebecca Johnston (Sudbury, Ont./Toronto, CWHL) put the puck past the goal line off a pretty offensive play at 6:57 in the middle frame.
And young blueliner Lauriane Rougeau (Beaconsfield, Que./Cornell University, ECAC) took a nice pass at the top of the circle and fired it into the back of the net at 16:50 on a power play.
"We had control in the offensive zone, and then Wickenheiser made a great pass up to Fortino at the point, and she made a pass over to me," Rougeau said of how her goal unfolded. "I saw this guy coming over into my shooting lane, so I changed the angle, and I shot it on net, and it went in."
Those three quick goals gave Canada's National Women's Team an exciting and much-needed second period comeback Friday night in the Markin MacPhail Centre, allowing the women in red and white to steal the lead 3-2 over the Strathmore Bisons.
"The second period has been one of our best ... in a long time," Rougeau said. "We were able to score three goals ... (and) it wasn't just my goal, it was the other goals, the first two goals, that helped and created a lot of momentum for our team."
But those would be the only goals Team Canada would score against the Midget AAA boys' team. After Strathmore took the early lead, with goals from Mason McCarty and Clay Murray in the first, Canada was able to pick up the pace in the second and maintain that momentum in the third. But a goal from Mackenzie Bauer in the last 20 seconds of the third was what Strathmore needed to tie it up and send it into overtime.
Both teams battled hard as the five minutes of four-on-four ticked down on the extra frame, but neither was able to come up with the game-winning goal before the final buzzer sounded, which meant the game would be decided in a shootout.
Charline Labonté (Boisbriand, Que./Montreal, CWHL) was calm and cool between the posts for Canada, turning away shots from Bauer and McCarty, but Strathmore netminder Garrett Mason stopped all three shots, while Troy van Tetering was able to find an open spot to put the puck in the net, and ultimately make it a 4-3 win for the Bisons boys.
"We would like to finish off with a win," Rougeau said matter-of-factly.
And that's exactly what Canada's National Women's Team plans to do when it faces off against the Calgary Buffaloes on Sunday, in what will be its final game in Alberta Midget Hockey League action before travelling to Austria early next week for some final preparation leading up to the 2014 Olympic Winter Games.
"We've got to keep working hard, playing our systems, do what we do best, controlling the puck, possessing the puck down low against their defence," Rougeau said of what Team Canada has to do Sunday to get that win. "And keep putting pucks on net."
The puck drops against the Calgary Buffaloes at 1:30 p.m. MT inside Hockey Canada's home at Canada Olympic Park in Calgary, on the Markin MacPhail Centre ice. Tickets are just $5 at the door, and post-game festivities will feature a Jersey Off Our Back promotion that will allow some lucky fans in the stands to take home game-worn Team Canada jerseys.
Follow Canada as it faces off against the Calgary Buffaloes, and continues its Road to Sochi overseas, by visiting Hockey Canada's official website at www.hockeycanada.ca/nwt and checking out Canada's National Women's Team social media at twitter.com/hc_women and www.facebook.com/hockeycanada.
Game Information/Renseignements sur le match
Game #/Match no

25
Round/Ronde
Midget Series
Arena/Aréna
Markin MacPhail Centre – Rink A
Location/Lieu
Calgary, Alta.
Date
Friday, January 17, 2014
Time/Heure
21:00 MT

| Box Score/Compte | 1 | 2 | 3 | OT/P | SO/TB | Total |
| --- | --- | --- | --- | --- | --- | --- |
| CAN | 0 | 3 | 0 | 0 | 0 | 3 |
| STR | 2 | 0 | 1 | 0 | 1 | 4 |
Goals & Penalties/Buts et pénalités
First Period/Première période
Goals/Buts :
01:50 STR Mason McCarty (Shane Fraser)
17:41 STR Clay Murray (Shane Fraser, Philip Anderson)

Penalties/Pénalités :
06:21 STR Tristan Thompson (Hooking/Accrocher)
12:53 CAN Caroline Ouellette (Hooking/Accrocher)
Second Period/Deuxième période
Goals/Buts :
00:50 CAN Hayley Wickenheiser (Caroline Ouellette, Laura Fortino)
06:57 CAN Rebecca Johnston (Marie-Philip Poulin, Jennifer Wakefield)
16:50 CAN Lauriane Rougeau (Hayley Wickenheiser, Laura Fortino) PP/AN

Penalties/Pénalités :
04:29 CAN Marie-Philip Poulin (Tripping/Faire trébucher)
14:05 CAN Laura Fortino (Body-checking//Mise en échec corporelle)
15:01 STR Zachary Giroux (Cross-checking/Double-échec)
Third Period/Troisième période
Goals/Buts :
19:40 STR Mackenzie Bauer (Tristan Thompson, Mason McCarty) PP/AN

Penalties/Pénalités :
00:46 STR Brayden Biccum (Cross-checking/Double-échec)
01:40 STR Zachary Giroux (Body-checking//Mise en échec corporelle)
10:40 CAN Gillian Apps (Head Contact/Coup à la tête)
13:00 STR Philip Anderson (Head Contact/Coup à la tête)
15:56 CAN Jocelyne Larocque (Head Contact/Coup à la tête)
17:15 STR Zachary Giroux (Boarding/Donner de la bande)
18:24 CAN Hayley Wickenheiser (Hooking/Accrocher)
Overtime/Prolongation
Goals/Buts :
None/Aucun

Penalties/Pénalités :
None/Aucune
Shootout/Tirs de barrage
CAN Meghan Agosta-Marciano - NO GOAL/AUCUN BUT
STR Mackenzie Bauer - NO GOAL/AUCUN BUT
CAN Hayley Wickenheiser - NO GOAL/AUCUN BUT
STR Mason McCarty - NO GOAL/AUCUN BUT
CAN Rebecca Johnston - NO GOAL/AUCUN BUT
STR Troy van Tetering - GOAL/BUT
Goaltenders/Gardien(ne)s de but
CAN
Charline Labonté
STR
Garrett Mason
| Shots on Goal/Tirs au but | 1 | 2 | 3 | OT/P | Total |
| --- | --- | --- | --- | --- | --- |
| CAN | 5 | 10 | 5 | 2 | 22 |
| STR | 6 | 5 | 6 | 1 | 18 |