Developing Goaltenders | Goaltending Pathway
---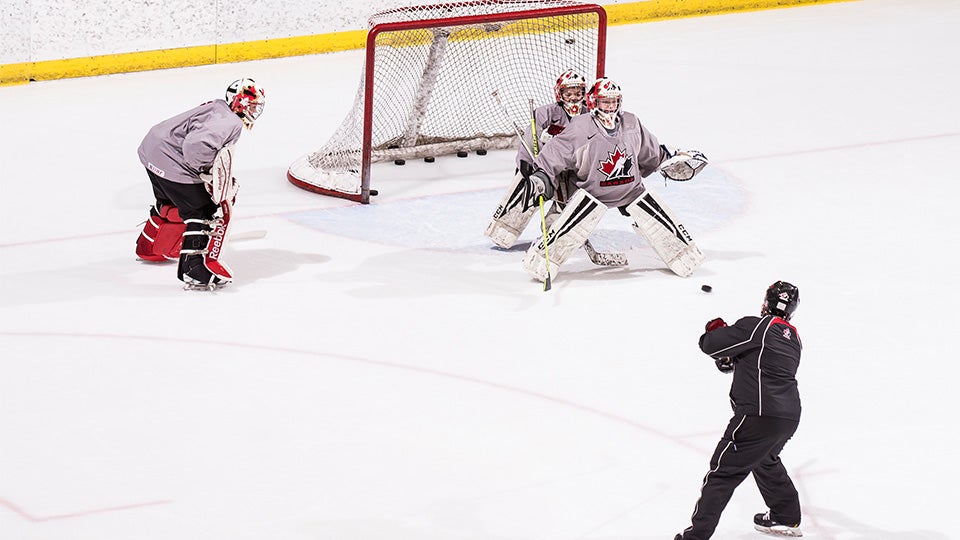 How an athlete gets that first experience of goaltending in hockey is crucial.
If a beginner has fun while developing the fundamental skills and building confidence in their ability to perform those fundamental skills, there is a strong probability that athlete will go on to enjoy goaltending and hockey for many years.
Goaltending is a critical aspect of team play and requires direct & consistent unique coaching skills. Just as forwards and defenders get specific coaching for their respective positions, goalies require the same attention and guided skill development.
New to Goaltending?
Awesome! Welcome to the club! Not sure where to get started? See below resources and recommendations as per the Hockey Canada Goaltending Pathway:
U9
Get involved in your Minor Hockey Associations' "Try Goaltending" sessions to give players a chance to try the position
No need to specialize early, continue to play both positions (player and goaltender) to develop a diverse skill set
U13
Join your Minor Hockey Associations' goaltending instruction sessions through small group training sessions to coaches and players
U15 - U18
Usually at this stage, the Minor Hockey Associations' goaltending coach guides the developmental process of goaltenders. Teams could have their own goaltending coaches through the association or an association goaltending coach would over see the development of all rep level goaltenders
Goaltending Resource
5 Goaltending Practice Plans
---
Coaching Goalies
Whether you are a specialized goalie coach, an assistant coach who is in charge of warming up the goalies, or a parent who wants more goaltending information for their young goaltender, Hockey Canada has a Goaltending Coach clinic that is right for you.
Goaltending Level 1 is a clinic that is suited for any coach or hockey person to take. It explains the basics of the goaltending position and key areas of emphasis for skill development.
Goaltending Level 2 is for a coach who wants to learn more about the position and more advanced tools to teach your goaltenders.
Goaltending Level 3 is an application only program which aims to recognize and certify specialized goaltending coaches across the country
To register for a clinic or to learn more about our Goaltending coach levels, find your Member Branch below and see when they are hosting their next Goaltending clinics!
---
Hockey Canada Network
The Hockey Canada Network is the premier destination for goaltending development
Over 100 drills, 70+ goalie specific practice plans for each skill level, and extensive informational articles from Certified Hockey Canada Goaltending Coaches.
Use the discount code HCNGOALIE to receive 50% off the cost of a premium subscription
Additional Goaltending Resources