Bubble Blog: Anton Jacobs-Webb
The forward and Gatineau, Que., native talks about how it felt to reunite with his teammates for the first time in 10 months at Canada's National Para Hockey Team Training Camp, presented by Canadian Tire, the excitement he felt from getting back on the ice and the competitiveness of the first Red-White scrimmage.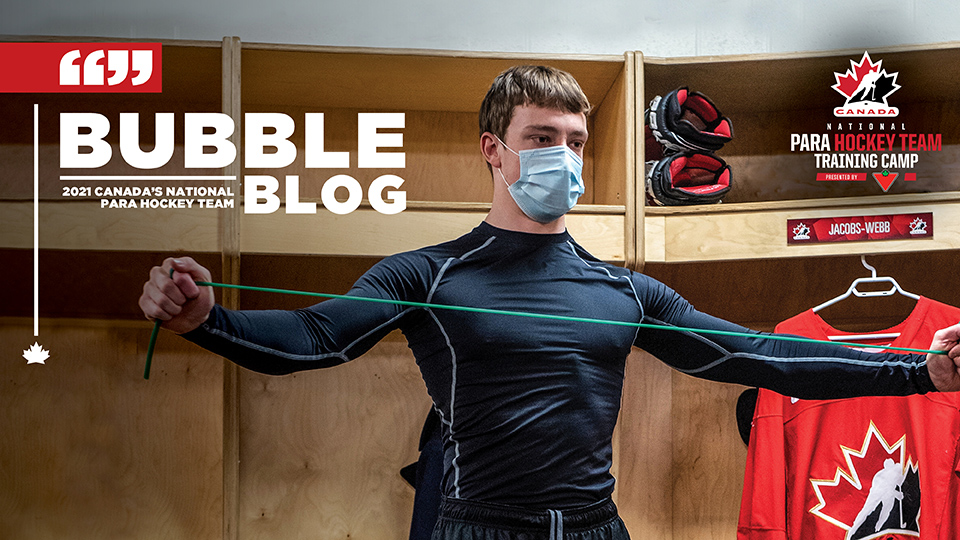 Sunday, January 24
We started the National Para Hockey Team Training Camp bubble in Calgary on Jan. 16, which included two days of isolation in our hotel rooms. It was funny to see my teammates for the first time in 10 months in a socially-distanced manner on the bus from the airport to the hotel, and then to only see them on Zoom for the next two days.
In anticipation of camp, I packed four books and my schoolwork, thinking we would have more down time than a regular camp because of COVID. In reality, our time at the hotel has been filled with meetings, workshops and workouts (in our rooms). I've been able to finish one of my books, and I'm about a quarter of the way through Great Expectations by Charles Dickens. I have also spent much more time on the phone and Skype than expected, talking with loved ones like my grandmother, who just celebrated her 89th birthday.
During the isolation period, my teammate Jean-Francois Huneault and I got into the routine of popping our heads out of our hotel rooms to say "bon appétit" before most meals. Since the isolation period ended, we've been able to get on the ice every day, and on Monday we had our first ice session. It was on-ice testing in groups of three, and even though we were skating in small groups, there was constant chatter on the bus to and from the rink because we were so excited to see each other again.
We had our first full practice as a 14-player unit on Wednesday, which was exciting and energizing to take part in competitive, high-paced practices with teammates that I hadn't seen in person since last March. It was a breath of fresh air after practicing with small groups of only two or three teammates at home. These practices honestly gave me a boost of motivation, reminding me why I train so hard to play the game I love.
Throughout the week, we have had one practice in the morning and one in the afternoon, which gives me a chance to fit in my schoolwork after lunch. Since my classes are online like most university students in Canada right now, I can watch the class whenever it suits my schedule.
Friday was the big day, as it was our first Red-White scrimmage. It's what everyone was talking about all week, and what I had been looking forward to most since the camp was announced. The competition between Team White and Team Red didn't just start on game day, it had been growing all week. 11 months is a long time to go without playing games, so you can imagine how excited we all were. We treated this game like any international game, starting with an off-ice mental performance activity and full on-ice warm-up. From my experience on the National Para Hockey Team, intrasquad games get pretty intense, and this game was no exception. Despite playing 3-on-3 because of our reduced numbers at camp, we played three ten-minutes periods to keep it as close to a regular game as possible. We even played a 4-on-4 overtime period and did a shootout at the end.
I found myself thinking that I should savour this moment and these ice times. Right now, there is no guarantee that our team will be able to get together any time soon after camp and have this much fun on the ice again.