Female Hockey Breakthrough Award
Outstanding contribution to advancing female hockey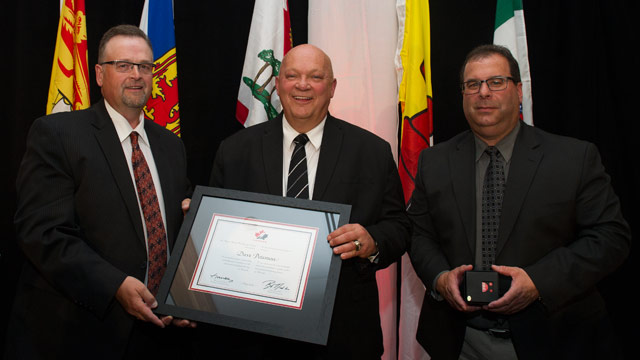 David Peterson (Calgary, Alta.)
David Peterson's passion for hockey, particularly the female game, is undeniable to all who know him. That's whether it's his life-time friends who are well aware of his long-time support of our sport, or those who have simply had the fortune of shaking his hand – always with a smile on his face – in one of the many rinks he's spent countless hours in, across both Alberta and Canada.
Like many good-hearted Canada volunteers, Dave started off as a minor hockey coach and official in the 1980s, while also serving as president of the Seven Clubs Hockey Association in his hometown of Calgary. He went on to become both president of the East Calgary Twin Arena Society, and a chairman of the Minor Hockey Association of Calgary. His enthusiasm and endless efforts on behalf of hockey had him quickly move up the volunteer ranks, first taking on director duties, and then serving as president of his local association.
Dave's dedication to the game continued with Hockey Alberta, where he served as Zone 9 director for eight years, before he wholeheartedly jumped into helping develop women's hockey across the province, as the organization's female council chair for four seasons. He went on to continue his support of quickly growing women's hockey at both the national and international levels, serving as Hockey Canada's Female Council chair for three seasons, until his retirement in 2011.
He served on various committees and won several awards recognizing his many incredible contributions to his volunteer activities, but perhaps his greatest legacies are his creation of a financial assistance program to give disadvantaged Calgary kids the chance to lace up their skates and fall in love with the game, and the infectious energy he has poured into helping the female game secure itself a strong future, both inside and outside of Canadian borders.
Dave continues to be a loyal friend to the great Canadian game, and all those who help make it happen in arenas across the country. There couldn't be a more worthy recipient of the 2014 Female Hockey Breakthrough Award.
---
Liz MacKinnon Award
Spousal award of a Hockey Canada volunteer
---
---
Gordon Juckes Award
Contribution to national development of amateur hockey in Canada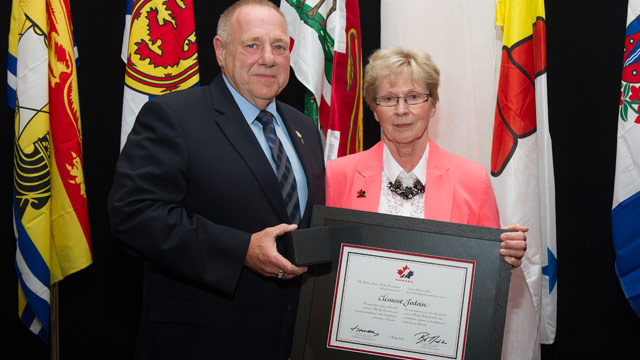 Clément Jodoin (St-Césaire, Que.)
From on the ice as a forward with the Quebec Major Junior Hockey League's Rosemont National to on the bench as assistant coach of the National Hockey League's Montreal Canadiens, Clément Jodoin's hockey success has spanned an impressive three decades.
He also played Canadian Interuniversity Sport hockey, with Concordia University in Montreal. But while he may have eventually hung up his skates, he has always stayed highly involved in the game he loves, and the impact he has had on Canada's favourite sport has been felt throughout Quebec, across the country and even globally.
In fact, Clément is described as "a pioneer in the field of developing talent in Quebec," as a committed coach at all levels of the game since the 1980s, and as an extremely knowledgeable speaker at various events hosted by Hockey Quebec and Hockey Canada, including at the Quebec Hockey Summit held last summer to help further develop the game across that province.
Clément spent 10 seasons as a head coach in the QMJHL, with the Halifax Mooseheads, Lewiston MAINEiacs and Rimouski Oceanic, twice winning the Ron Lapointe Trophy as the league's coach of the year. He also won the 2007 Brian Kilrea Coach of the Year Award from the Canadian Hockey League, for leading Lewiston to its only President's Cup win, and a spot in the Memorial Cup that same season.
Clément served as assistant coach of the Pittsburgh Penguins in 1987-88, went back to coach the American Hockey League's Halifax Citadels from 1990 to 1992, and then returned to the NHL as an assistant coach for the Quebec Nordiques from 1992 through 1994. He was part of the Montreal Canadiens from 1997 to 2003, and after a stint as head coach of the AHL's Hamilton Bulldogs, rejoined the Habs in 2012 as assistant coach.
He has represented Canada on several occasions claiming three gold medals as an assistant with Canada's National Junior Team at the 2006, 2007 and 2008 IIHF World Junior Championships.
Whether coaching or playing, speaking or teaching, Clément is an inspirational hockey figure provincially, nationally and internationally, and for that he is a well-deserving recipient of the 2014 Gordon Juckes Award.
---
Officiating Award
Outstanding contribution to officiating at the branch and national level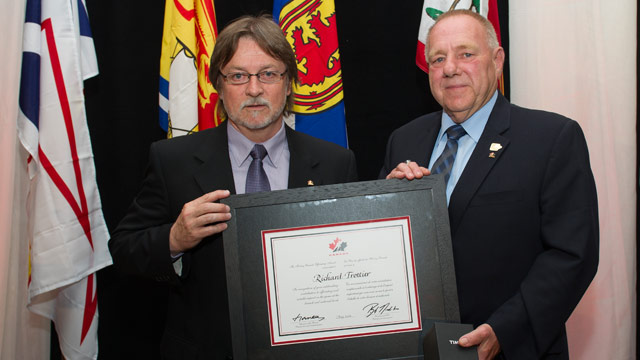 Richard Trottier (Laval, Que.)
In the world of hockey, Richard Trottier has pretty much done it all – but the rules of the game are certainly his specialty.
Like many Canadians, he grew up playing the game in his hometown of Laval, Que. And like many Canadians, the game became ingrained in him. So, it was only natural that Richard quickly became a coach and an official, ultimately choosing to stay on the ice, albeit wearing the black and white stripes of the officials.
He also worked with law enforcers off the ice, as an administrative clerk with the Laval Police Department for a decade. But his love for the ice kept drawing him back, and Richard quickly took on the role of officiating coordinator for Hockey Quebec, a job he poured his heart into for 13 years, from 1990 to 2003.
Richard continued his work with Hockey Quebec, serving as events coordinator from 2003 to 2010, while also taking on the demanding role of communications and marketing director from 2006 to 2010. He stayed well connected to the refereeing realm throughout his tenure at Hockey Quebec, as he was also a National Hockey League official from 1988 to 2001, during which time he called the shots at the game's highest level.
Other high profile events Richard has carried the whistle at include the Canada Winter Games, Canadian Interuniversity Sport championship, Memorial Cup and IIHF World Junior Championship. He has also officiated for the Quebec Midget AAA Hockey League and, of course, the Quebec Major Junior Hockey League, where he now serves as officiating director.
Richard also gives back to the game by teaching and training the next generation of officials, coordinating Hockey Quebec's education programs for officials, as well as the national Level 6 officiating seminar for Hockey Canada.
A passionate expert on how to play our game safely and successfully, Richard has made a tremendous mark on the world of officiating and far beyond, and is a true hockey leader both inside and outside of his home province. For this and so much more, he is the deserving recipient of Hockey Canada's 2014 Officiating Award.
---
Hockey Canada Order of Merit (East)
An individual who has served amateur hockey faithfully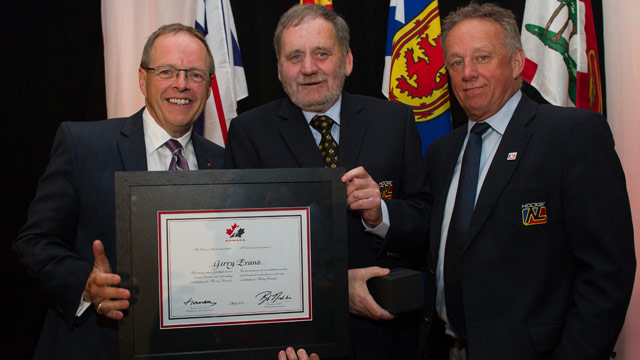 Gerry Evans (Mount Pearl, N.L.)
Gerry Evans is a well-known figure in the hockey world, both within his own province and across the country. In fact, he is currently the immediate past-president of Hockey Newfoundland and Labrador.
In typical Canadian fashion, Gerry started off simply as a dedicated hockey dad. His family's love for the game sparked his decision to run for the position of all-star director of the Mount Pearl Minor Hockey Association, a role he committed himself to for four years, before moving up to the position of president, for another four.
After making his way up the MPMHA ladder, Gerry continued his climb up Hockey Newfoundland and Labrador, all for the love of his family and the game, eventually becoming president of the provincial association. During this time, he has helped develop the skills of players and coaches across the province, while also keeping the game both fun and safe for all participants.
His legacies with Hockey Newfoundland and Labrador include encouraging all minor hockey associations to hold free coaching clinics and making STOP jersey patches mandatory for all minor players to encourage and promote the 'Safety Towards Other Players' campaign. He has also helped shine a light on the importance of eliminating checking from behind and other types of violence from the game, and has worked hard to keep hockey bylaws in his province fresh and relevant.
His contributions don't stop there. Gerry has served on several standing committees during his time as a Hockey Canada member, and as his nomination says, "his involvement (in hockey) began and ended with making every effort to improve the game at every level."
Despite being a very busy hockey volunteer, he has always got the job done with a friendly demeanor and great respect for others who freely give of their time to help the game his family loves grow.
Gerry receives the 2014 Hockey Canada Order of Merit for all of his efforts, from hockey dad to branch president.
---
Hockey Canada Order of Merit (Central)
An individual who has served amateur hockey faithfully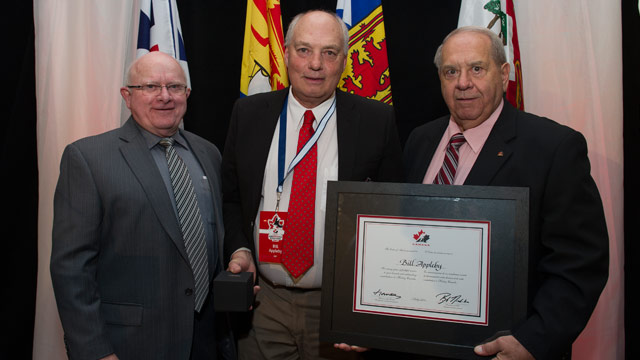 Bill Appleby (Waterloo, Ont.)
During the day you can find him in the office, working away at his day job as a lawyer.
So where can you find him at all other times? Probably in a rink, or perhaps in a board room fighting to make the game that's played in that rink better for all participants.
Bill Appleby has been a dedicated and determined hockey volunteer since the 1980s, with a particular passion for improving accessibility and expanding opportunity, to get more players at more ages lacing up their skates and picking up a stick.
He has served as house league parent representative, secretary and vice-president of the Waterloo Minor Hockey Association, with a special focus on getting "every kid in the game," including at the house league level. Bill was pivotal in the formation of a select league in the Cambridge, Kitchener and Waterloo tri-city area, as well as the Minor Hockey Alliance of Ontario, which has helped give the grassroots game a strong voice within the Ontario Hockey Federation. He has served as senior vice-president and president of the Minor Hockey Alliance of Ontario, and is one of only five OHF Life Members. He remains active and involved at Ontario Minor Hockey Association and Alliance meetings, continuing to develop Canada's sport for players of all levels.
While with the Alliance, Bill also took on the challenging position of OHF minor council chair from 1995 to 1999, quickly becoming "a stable force" in the organization. He went on to serve as a representative on Hockey Canada's minor council from 1995 to 1999, and served as the OHF's second vice-president from 1999 to 2001 and first vice-president from 2001 to 2003.
Bill is still chair of the OHF mediation committee. He has been awarded the Dr. Allan Morris Award for his dedication to amateur hockey, was the first recipient of OHF Life Membership.
Now, he rightfully receives the 2014 Hockey Canada Order of Merit, for his long-time commitment to improving the game we love for all players.
---
Hockey Canada Order of Merit (West)
An individual who has served amateur hockey faithfully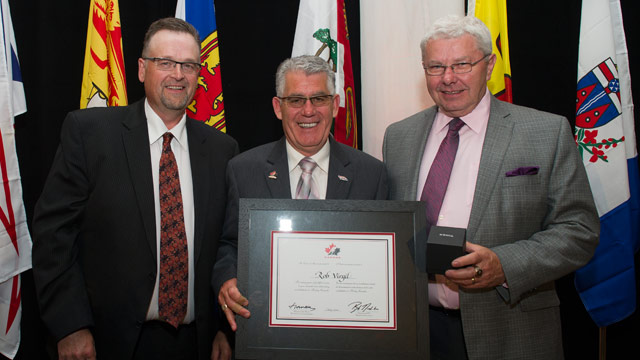 Rob Virgil (Edmonton, Alta.)
Rob Virgil's contributions to hockey are seemingly countless. But his great accomplishments in helping the game grow had to start somewhere, and that place was a small community called Carlisle, nestled in the northwest area of Edmonton, Alta.
It was there that he signed his children up for various activities, including hockey. It didn't take long for Rob to step onto the bench as his son's assistant coach, and before he knew – by the end of that very same season, in fact – he was asked to serve as administrator of the Little Richard Hockey League in Edmonton.
He was officially hooked on helping local hockey. Rob went on to become equipment director and then director of the Carlisle Community League, treasurer and president of the Little Richard Hockey League, evaluation director of the Hawks Athletic Club, secretary and president of Hockey Edmonton's Northwest District, treasurer and chairman of the Edmonton Federation Hockey Council and chairman of the Edmonton AA Hockey Council.
No matter what role he has taken on over the years, Rob has always remained a coach and manager for his children's teams, even during the hockey off-season, in whatever sports they played, such as baseball, softball and soccer.
Hockey season has always had him busiest, though, and in 2000 he was elected as Hockey Alberta's director for Edmonton, has since served on several committees for his provincial branch, and even started a non-contact recreational program in the Edmonton area. Did we mention Rob kept playing recreationally himself, right up until 2003?
Rob has won several service awards, in addition to receiving the 2001 President's Award from the Edmonton Federation Hockey Council and the 2007 Hockey Alberta Award.
This impressive list could go on, of course, but we'll cap it off for now with his most recent achievement – winning the 2014 Hockey Canada Order of Merit, for all of these and many more contributions to Canada's game at the amateur level.
---
Outstanding Volunteer Award
outstanding contribution to amateur hockey and Hockey Canada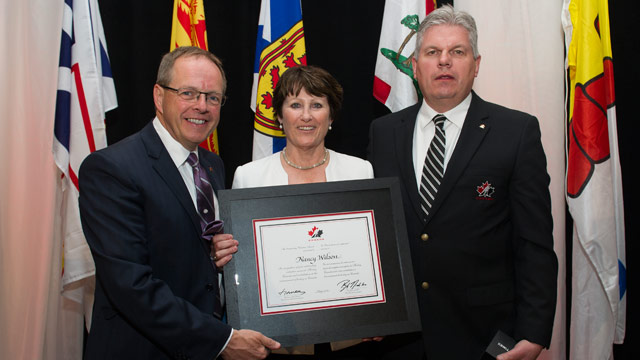 Nancy Wilson (London, Ont.)
If you know women's hockey, you know Nancy Wilson.
From the picturesque Canadian west coast to the Republic of Kazakhstan on the edge of Asia and Europe, Nancy's positive impact on the development of the female game has been felt pretty much everywhere.
For the past 15 years, Nancy has worked with BC Hockey and Hockey Canada in various capacities. That includes serving as coordinator of the provincial branch's female high performance program and helping it become the strong program it is today. She has been the head coach of the British Columbia contingent that competes at the Canada Winter Games, as well as the province's senior women's team. She has also been the bench boss for the University of British Columbia women's team that competes in Canadian Interuniversity Sport, and has been an active and enthusiastic female camp evaluator and coach mentor.
Wilson holds Advanced 2 (HP2) and Level 4 coaching certifications from Hockey Canada, and at the national level has served as head coach of Canada's National Women's Under-22 Team and assistant coach with Canada's National Women's Team. She won a silver medal at the 2008 IIHF World Women's Championship, and gold medals at the 2007 4 Nations Cup, and the 1999 and 2007 Air Canada Cup under-22 tournaments.
"Her positive effect on the program and the people she has touched in hockey has not gone unnoticed," reads her nomination. "Nancy is seen as a top mentor within BC Hockey and has been looked at as a source of information for (the organization's) up-and-coming elite coaches in female hockey."
"She has been a great liaison between BC Hockey and Hockey Canada," it adds.
Indeed, Nancy's love of the game has been felt globally as well, as she has served as coach mentor for Kazakhstan's national women's program, as part of the International Ice Hockey Federation's initiative to make the game more competitive at the elite level by swapping knowledge and sharing skills among countries.
Like most in the women's hockey world, Nancy started as a devoted player, taking to the ice for competitive senior teams in Edmonton and Toronto. Today, she lives in Summerland, B.C., where she owns and operates CNJ Lighting Solutions.
Never afraid of breaking barriers, Nancy became the first-ever recipient of the Development Award – Female High Performance Program, awarded in 2011 by BC Hockey.
"Fittingly, Nancy received a standing ovation and gave a passionate speech on female hockey and how far it has come in B.C., Canada and the world," her nomination says.
Just as fittingly, and certainly not surprisingly, Nancy is the recipient of the 2014 Outstanding Volunteer Award from Hockey Canada.
---
Hal Lewis Award
Hockey Canada staff person of the year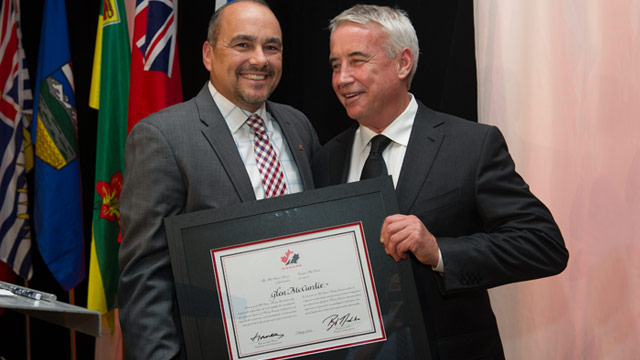 Glen McCurdie (Manotick, Ont.)
Since October 1988, Glen McCurdie has been a valuable member of the Hockey Canada family. Hired as a manager, he has spent the last 26 years playing a major role in the growth of the organization, rising to his current position of vice-president of member services in 2010. He has wide-reaching responsibilities, including overseeing information technology, safety, regulations, transfers, insurance, meetings, travel and communication between Hockey Canada and its branches. Glen's daily duties highlight his dedication to the values and objectives of Hockey Canada. He has an open-door policy in Hockey Canada's Ottawa office, and has shown himself to be approachable not only as a boss, but as a friend as well.