Women Master Coach Developer Program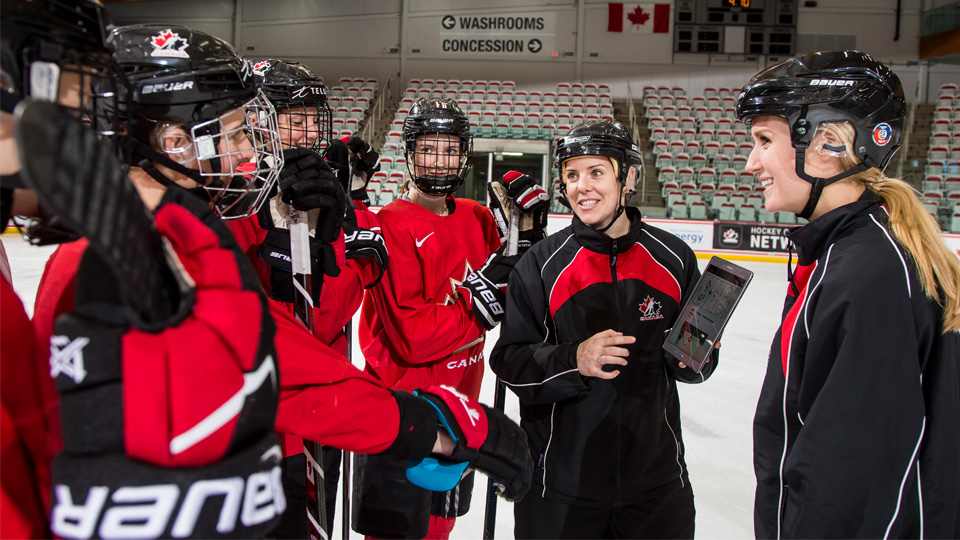 Hockey Canada launched the Women Master Coach Developer (WMCD) Program in July 2019 to introduce more hockey coaching programs led by women. The WMCD Program is currently equipping 38 coach leaders with the ability to not only deliver coach clinics but to also train future facilitators and evaluators in each Member to increase the number of women-led coaching programs from coast to coast to coast. The impact of this program will ensure an engaging and welcoming training experience for all coaches, dramatically increasing the number of active women coaches at youth levels of hockey across Canada. More women in active and meaningful coaching roles will create the infrastructure needed to support the participation of girls and women in hockey.
Following completion of the WMCD Certification, delegates will work directly with their Member Branch or Member Partner in a leadership role to optimize the delivery of the We Are Coaches Program and will support and mentor women coaches within their communities.
WMCD Program Delegates are required to complete the following:
NCCP Core Evaluator Training
Hockey Canada Evaluator Certification
NCCP Core Facilitator Training
Hockey Canada Facilitator Certification
NCCP Master Coach Developer Training
NCCP Master Coach Developer Certification
Canadian Tire Jumpstart Keeping Girls in Sport Module
Respect in Sport for Activity Leaders
NCCP Make Ethical Decisions training and online evaluation
Professional development webinars are also offered to delegates throughout the season on a variety of topics, including mentorship, sports psychology, emotional intelligence, and more.
WMCD Program delegates are nominated by their Hockey Canada Member each season based on the following criteria:
Nominations are accepted for women only.
Nominees must be currently trained or certified at the Development 1 level or higher.
A minimum of 3 years coaching experience at or above the Competitive Bantam Stream is required.
Nominees should be viewed as advocates for female hockey within their communities.
Hockey Canada is not solely looking for high-performance coaches but seeking nominees who are actively involved in their local hockey associations, have a strong mentorship potential, and are dedicated to growing the participation of girls and women in hockey in their community.
If you meet the above criteria and are passionate about training and supporting new women coaches, please reach out directly to your Member Champion for more information.
2020-2021 Women Master Coach Developer Program
WMCD Program Delegate
Member
Kaylee Grant
Hockey North
Whitney Juszkiewicz
BC Hockey
Samm Holmes-Domagala
Hockey Alberta
Robin Ulrich
Hockey Saskatchewan
Stephanie Pascal
Ontario Women's Hockey Association
Noemie Tanguay
Hockey Quebec
Christine Bouchat-Bonin
Hockey New Brunswick
2019-2020 Women Master Coach Developer Program
WMCD Program Delegate
Member
Jessica Cox
Hockey North
Christina Sharun
BC Hockey
Nancy Wilson
BC Hockey
Kendall Newell
Hockey Alberta
Taryn Baumgardt
Hockey Alberta
Deana Gelinas
Hockey Saskatchewan
Colleen Sostorics
Hockey Saskatchewan
Brenda Cromartie
Hockey Saskatchewan
Ashley van Aggelen
Hockey Manitoba
Regan Boulton
Hockey Manitoba
Sarah Zacharias
Hockey Manitoba
Debbie Bland
Ontario Women's Hockey Association
Jennifer Hitchcock
Ontario Women's Hockey Association
Farren Hart
Ontario Women's Hockey Association
Tiffany Hart
Ontario Women's Hockey Association
Stacey Colarossi
Ontario Women's Hockey Association
Teresa Hutchinson
Ontario Women's Hockey Association
Tammy Reynolds
Ontario Women's Hockey Association
Cherie Piper
Ontario Women's Hockey Association
Brianne Jenner
Ontario Women's Hockey Association
Mercedes Watson
Greater Toronto Women's Hockey League
Noemie Marin
Hockey Quebec
Stephanie Poirier
Hockey Quebec
Isabelle Leclaire
Hockey Quebec
Genevieve David
Hockey New Brunswick
Cassidy Hilworth
Hockey New Brunswick
Carla Alderson
Hockey Nova Scotia
Fiona Smith-Bell
Hockey Nova Scotia
Linda Massie
Hockey Newfoundland & Labrador
Stephanie Delaney
Hockey Newfoundland & Labrador