Bubble Blog: Alan Millar
The Program of Excellence management group representative talks about how the group is managing quarantine in Red Deer, and how they'll handle the rest of the road to World Juniors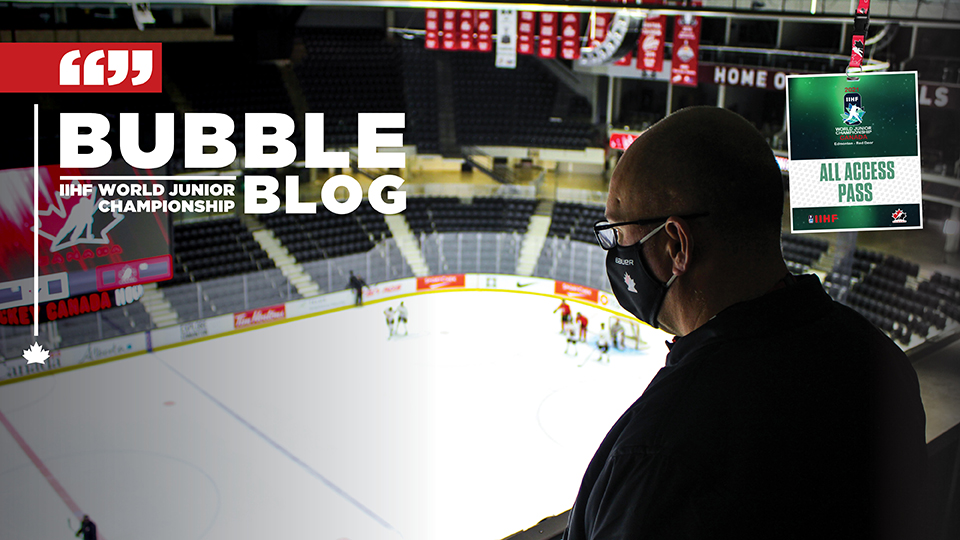 Well, as I start to write bubble blog 2.0, things were supposed to be different!
At this time, we originally planned to be down to 28 or 29 players as we prepared for two more U SPORTS games this weekend to finalize our roster.
As we know, that's not the case. All 46 players remain in camp, in isolation with the majority of our staff at the Cambridge Hotel in Red Deer.
What's another curveball, a little more adversity, another challenge in 2020?
Nothing for this group … we have a special collection of players and staff!
It started with a positive test to one of our staff and isolation for an additional nine staff members. What happened next was an unbelievable group of people doing whatever they could to take care of each other.
A few days passed and two players tested positive, which meant isolation for most of our group. Once again, the group – a bigger group, this time – went to work to take care of each other.
When we got the news about the 14-day quarantine, sure there was some disappointment, some oh-no's and maybe some frustration. But that went away quickly; this group turned on a dime, rallied for each other and got to work to make these 14 days the best we could.
Players and staff joined together on a food committee, a social committee and an entertainment/guest speaker committee.
Our friends in Red Deer came together and collected 69 exercise bikes for players and staff. Morning workouts include yoga and spin classes.
In the afternoons we meet as a group to talk about hockey and our values, to share stories and to get lots of great tips from our mental performance coach, Ryan Hamilton.
And at night, we get social. Games, poker, trivia and entertainment. A few recognizable Canadians from the sports and entertainment worlds are sharing their time to put a smile on our faces with an uplifting message.
It started with Hockey Canada CEO Tom Renney last Thursday night. Tom, always passionate about our game and our country, presented the strong message that we'd get through this because of the one special trait we all share – we're Canadian!
Max Kerman from The Arkells, Michael Bublé, comedian Kelly Taylor, members of Canada's national women's soccer team, Steve Yzerman, Sidney Crosby, Morgan Rielly, Sam Reinhart and adventurer Jamie Clarke … these are just some of the special guests who have offered their support and are sharing their message, their special gifts and experiences.
It has been truly unbelievable how the game and our country connect and come together to support and care for each other!
There is one more group to recognize, and all I can say is 'wow' and 'thank you': the Hockey Canada staff who have gone above and beyond to look after us so well. You have been awesome!
This is a caring group of people. A team. A family!
Now, what about the team and our road to the IIHF World Junior Championship. Is this a setback? Does it change expectations? That's a hard NO! Not with this group of players!
As talented as this group of players is with sticks in their hands, their character will make us better, stronger and more united when we get back on the ice. We're going to trust our process and trust our values. As our good friend Jamie Clarke passionately shared with us – "Urgent with tactics, patient with outcome."
This team's expectations are exactly the same they were when we got together November 16 – defending our gold medal in Edmonton.
We'll be ready.
Look forward to another update in a couple of weeks!
Millsy