Bubble Blog: Alan Millar
The Program of Excellence management group representative talks about Canada's quarterfinal match-up, the injury to Kirby Dach and the commitment from players, staff and families back home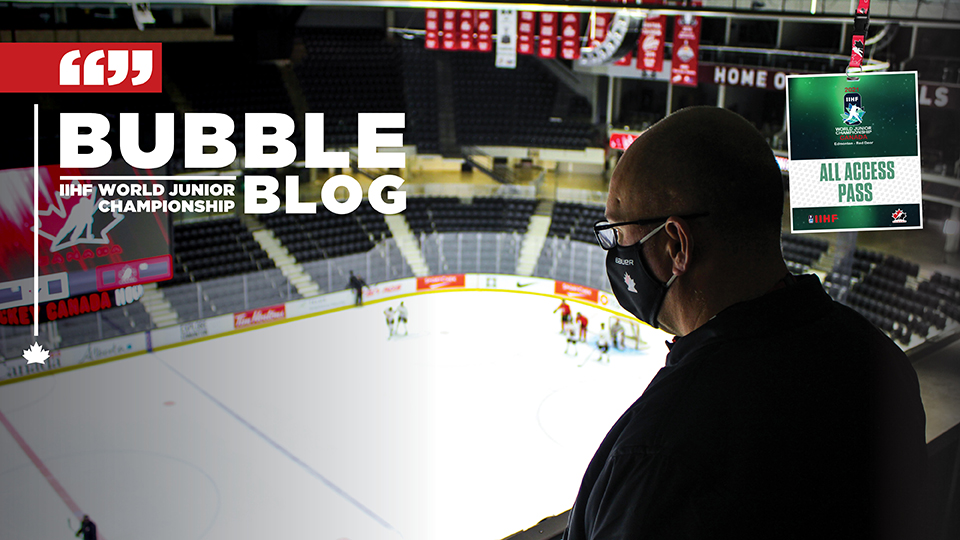 Well, here we are on New Year's Day, the 48th day in the bubble in Red Deer and Edmonton, and the night before our quarterfinal against a good, competitive, structured Czech team. Their top line of Mysak, Teply and Lang is as good as any line in the tournament, and this team does not give you much on offence. They block a ton of shots and don't give you much room in their defensive zone.
We'll need to be ready and we will!
Our team is exactly where we want to be. Our New Year's Eve win over a very good Finnish team earned us first place in our group and the No. 1 seed going into the final eight. Our team has gotten better every day and we'll need that to continue as we look for three wins to win gold and go back-to-back!
I have to talk about our captain, Kirby Dach. As we all know, Kirby was injured in our pre-tournament game against Russia and is out of the tournament. I can't say enough about Kirby's will and want to be part of our team after a year with the Chicago Blackhawks in the NHL. Not only did Kirby want to play on this team, he wanted to be with our group from Day 1 of camp. He initiated playing for this team through his agent and Blackhawks GM Stan Bowman, and he was outstanding on and off the ice from the moment he arrived at camp. Our group has a ton of respect for our captain, and I know Kirby and the guys have been in regular contact. All the best to Kirby on a speedy recovery and we look forward to seeing him in a Blackhawks jersey real soon.
I also can't finish this blog without a shout-out to the Edmonton Oilers, to Ken Holland, Dave Tippett and the Oilers staff for allowing Team Canada to use their dressing room and facilities. It has been awesome and a special time in a special environment for our players and staff. Thank you, gentlemen!
To the families of our staff, thank you very much for your outstanding support. Fifty-plus days away is an unbelievable commitment, and we couldn't be following our hockey dreams and participating in this special opportunity to represent our country without you. It has been special to see Barbs, Dietz, Jethro, Lover and others share special moments with their young families on FaceTime.
Finally, thanks to our players for their professionalism and hard work. While our group has been feeling its way through this process, they have day in, day out worked their butts off and trusted the process. Our values of humility, resilience and trust are so very evident in this special group of young men.
Well done, guys!
And one last quick shout-out to the fans on the street in jerseys and waving flags outside the pedway as our guys head to the rink on game days. You guys and gals have been awesome!
Thanks for your tremendous support, Canada! We'll do our best to get it done.
Writing these blogs has been a pleasure.
Go Canada Go!
Millsy