All-Access Blog: Cassie Campbell-Pascall
As players and staff settle into Halifax for the BFL National Women's Team Selection Camp, presented by Sobeys, the six-time world champion talks about her affection for the East Coast, and her approach to life in self-isolation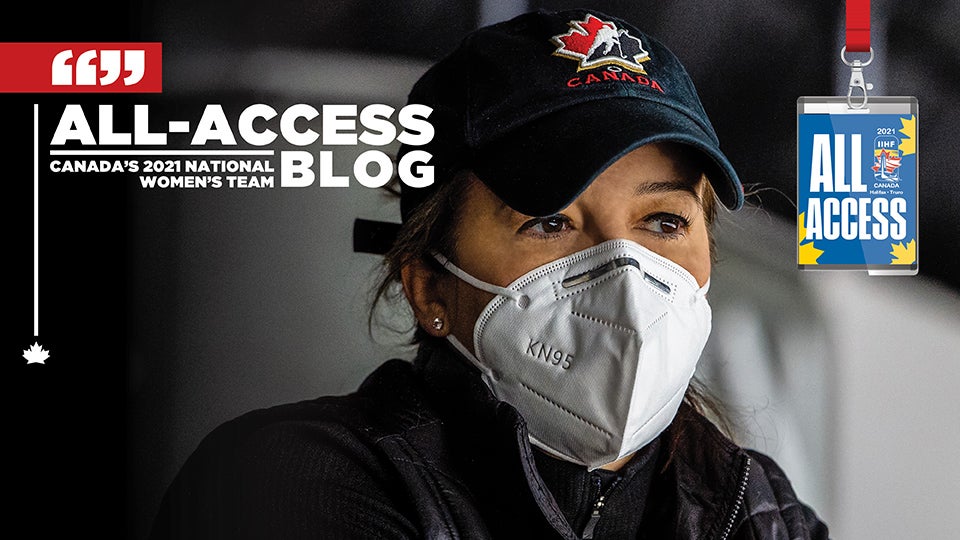 Thursday, April 15
Oh, Halifax … how I love thee.
I have been here so many times for hockey and for work, but any time I get a chance to come east, I jump at the opportunity. This time around, something is different; after 15 years away from the Team Canada program, I am back with Canada's National Women's Team in a part-time staff role.
Hold on a second … just got a knock on the door. Could be the COVID-19 tester.
Nope, it was Tania Kenny, an amazing member of our staff, delivering my Hockey Canada apparel!
That delivery means a lot to me. It means I am part of a team again, but not just any team – Team Canada. The emotions come flooding back as if I just finished competing in the greatest country for the greatest country all over again. Those emotions are so hard to describe, but they came flying right back as soon as I landed in the Maritimes.
My first taste of hockey in Halifax came at the 2003 IIHF World Junior Championship. Back then, I was a family member supporting my partner in his role with Hockey Canada. It was fantastic to be there, and the crowds were over the top GOOD and LOUD. Then it was my turn, as an athlete a year later at the 2004 IIHF World Women's Championship. To see and hear those same crowds that were cheering for a men's team right back in the same building cheering us on took my breath away.
It looks different this time around, but those emotions of playing at home for a world championship never change. Sitting here, I still feel how fortunate I am to be representing my country with younger athletes who inspire me every single time I get to cross their paths. Their dedication and commitment through the ups and downs over the last 13 months has taught me more than they will know. I am so proud of everything they have done to keep themselves performing at a high level, both physically and mentally.
My self-isolation set-up consists of my hotel room, a TRX band, a roller (to roll out those old kinks I still have from my playing days), books (A Promised Land – Barack Obama, The Energy Bus – Jon Gordon, The Queen's Secret – Karen Harper) and, of course, my candle. I travel with one wherever I go … it keeps the room smelling like home and acts as a calming influence for me on long road trips. It's a habit I started while playing and has continued on to my post-hockey career as a broadcaster in all the hotel rooms that come with that across North America.
I have an iPad for team Zoom meetings and my laptop for my real job, and I am slowly becoming addicted to Match 3D, which sucks the life out of my phone battery! I brought a list of things I can do for home and appointments that need to be made, as I know time is on my side. The weird thing about this camp is even though I am in my room alone, I don't feel lonely. Our group is amazing at staying connected, checking in on one another and sending jokes on WhatsApp. It's all part of amazing resiliency and finding a way to get though what life throws at us lately … together.
Life in self-isolation is different, as we all have come to know, but the attention to detail when it comes to team preparation seems the same, if not better than ever. The focus by our staff and athletes is at an all-time high. In-room workouts (I started my day with 30 minutes of yoga – I am not flexible!) continue as if there is no need for a gym. My camera definitely stays off so as not to embarrass myself, since I still think I can do the athlete workouts! Camp preparations are in full swing, and we continue to just put one foot in front of the other. Zoom glitches give us funny frozen facial expressions to look at from time to time, and we still find a way to laugh in a year that has been anything but fun for so many.
The best thing about life in self-isolation is the people doing it with me. I wouldn't want it to happen with any other group, and for that I will always be thankful that we are healthy and safe together.
So, Halifax, thank you for being there for me as a fan, as an athlete and now as a Team Canada staff member.
You've been good to me and good to us, and I love thee.
Cassie