Bubble Blog: Emily Clark
The forward from Saskatoon, Sask., talks about her first few days at the BFL National Women's Team Training Camp, presented by Sobeys, how she is passing the time and adjusting to life in the bubble, and shares her excitement about getting back on the ice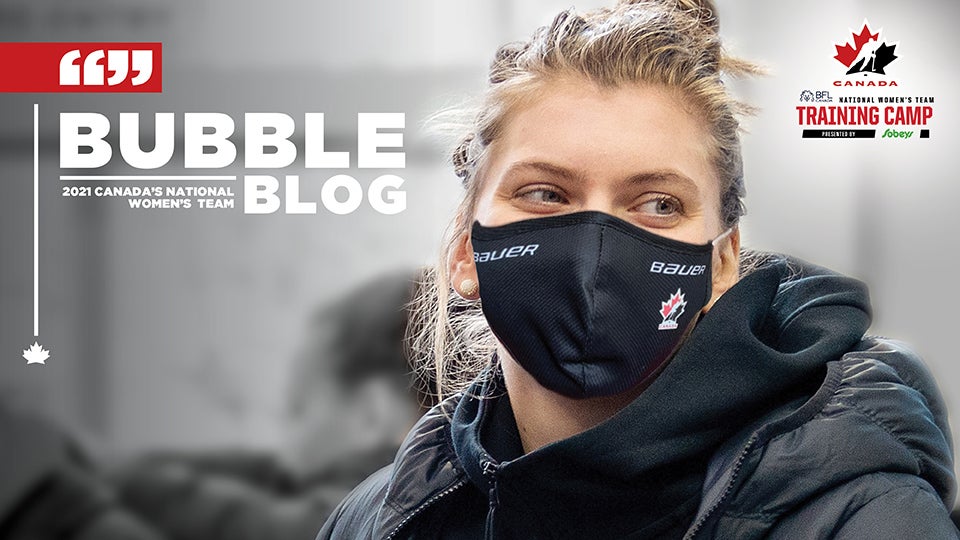 Tuesday, January 19
Hello from the National Women's Team training camp bubble!
It has been a long time coming but we are finally here! Yesterday was our first official day of training camp, which means we moved into our bubble. I have been in Calgary for the past few weeks, so I arrived at the hotel Sunday night by car as opposed to flying like most of the players and staff. One positive of driving to the hotel means I got to pack a large duffle bag full of snacks and treats with no baggage fee (don't tell my teammates!).
I started my bubble experience by following some important safety protocols. When I arrived, I checked myself into the hotel, grabbed my key and headed straight to my room. Once I got to my room, I unpacked all my things and made myself at home while I waited for my first COVID test and dinner to arrive at my door.
We had quite a bit of down time until our opening camp meeting, and I didn't know exactly what to expect from being in a bubble. I knew there would be a lot of down time spent alone in our rooms, so I came prepared with my Nintendo Switch and some books. We had our first camp meeting Sunday night, and after seeing all the staff and other players faces on Zoom, it sunk in that we are really here and we finally get to be back together doing what we love.
Monday was a full day of quarantine in our own hotel rooms. It started with COVID testing and was followed by various meetings on Zoom throughout the day. We had meetings with coaches, medical check-ins, a mental performance session and a workout with our strength and conditioning coach. Although it feels a little weird to have these meetings happen through a screen, they are meetings we would be having at a typical camp. In a way, it was refreshing to have that little bit of normalcy and nice to be back in our regular routine. I spent quite a bit of my down time on FaceTime with other teammates who are also at camp and just down the hall from me. It seems a little funny to be video calling people who are in the same building, but it was nice to catch up and share some meals with teammates even if it wasn't in-person. The rest of my day was spent putting my brain to work writing this blog and, if I am being honest, too much of the remainder of my down time was spent on TikTok!
We are just two days in and although we have yet to hit the ice, I am extremely excited and grateful to be here and under the same roof as everyone! It has been 11 long months since the last time we were together as a group. I know everyone has been working tirelessly in that time to push themselves and make the most of the things we could control through this challenging year. I am beyond excited for everyone to have a chance to showcase all the hard work that has been put in this year while competing and pushing each other towards our goals as a group. The next two weeks are going to be a lot of fun and I can't wait to get to work!
Stay safe!
Clarky