Bubble Blog: Jaime Bourbonnais
The defenceman talks about finally getting back in the Team Canada environment, what the velvet cape means for Team Red, and playing her first competitive game in almost a year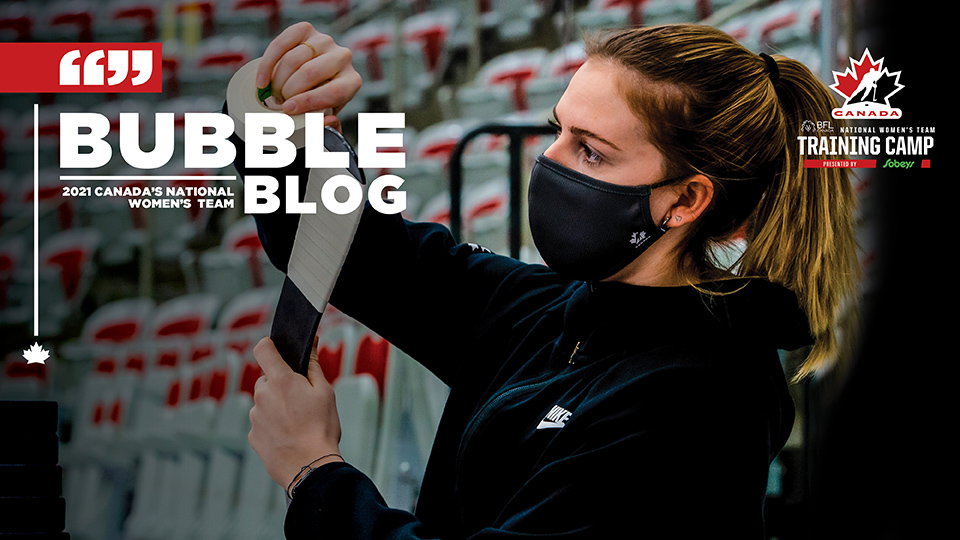 January 26, 2021
After 11 long months apart, we are finally all together in Calgary! This past year has been extremely challenging, and we have had to make many changes and sacrifices in our lives and training schedules. However, I know the adversity we have gone through together will only make us better in the long run. We are all so grateful and excited to be back on the ice competing and challenging each other, while sharing many laughs along the way.
The first couple of days in quarantine consisted of a few COVID-19 tests, many Zoom meetings and some very competitive games of Among Us. On Day 3 we were able to get on the ice for the first time in small groups. Our coaches gave us a lot of say in helping plan the practices for the small group skates so we could all work on the things we wanted to before we headed into full-team practices and games.
The first team practice was truly something special. All the smiles and energy proved how excited everyone was to be back on the ice as a team. Brianne Jenner described it best when she said that she felt like a kid at her first-ever Team Canada camp. The next few practices were just as fast-paced, fun and exciting, but I was definitely counting down the days until our first game.
At the end of each day, my team hops on a quick Zoom call to hand out the cape. The winner of the cape is the person who did something to stand out that day, whether it was having a great game or practice, or just bringing a good positive attitude to the rink. Awarding the cape is a really fun way to acknowledge and reward each other for the hard work that we put in, and to have some good laughs watching the recipient wear the red velvet cape at the rink the next day.
Sunday was definitely the best day of camp so far because it was finally game day! After nearly a full year without playing a single game, I was overcome with excitement, nerves and gratitude when I woke up. It was an indescribable feeling to finally get on the ice and play a game alongside such an incredible group of women. The game was very physical, high-tempo, competitive, a lot of fun and very tiring, which was no surprise at all. Oh, and my team won, which made it that much more enjoyable. We have just under a week left of camp and still three more games to play, and I know we will only keep getting better!
I think I can speak for everyone when I say this was the most excited we have ever been to attend a camp. My love for hockey has only intensified this past year and I have craved being in the competitive environment that every Hockey Canada event embodies. Even though this camp has been extremely different from previous camps, it has been so amazing to see everyone (from a distance), and practice with and play against some of the best in the world. I am really looking forward to the rest of camp and am eager to see how the next three games go!
Stay safe and healthy!
Jaime