Online 50/50 tickets will be available for all 2021 Women's Worlds games!
All net proceeds from the 2021 IIHF Women's World Championship 50/50 program will remain in the Province of Alberta to invest in hockey programs that enable more girls and women in the Province to get involved in the sport and improve their quality of life through hockey.
When you purchase a 50/50 ticket, you are helping Make Hockey More by providing opportunities for girls and women to create more friendships, inspire more diversity, and launch more hockey dreams. Draws take place on August 20, 22, 24, 26, 28, 30 and 31. Check out HockeyCanada.ca for jackpot updates!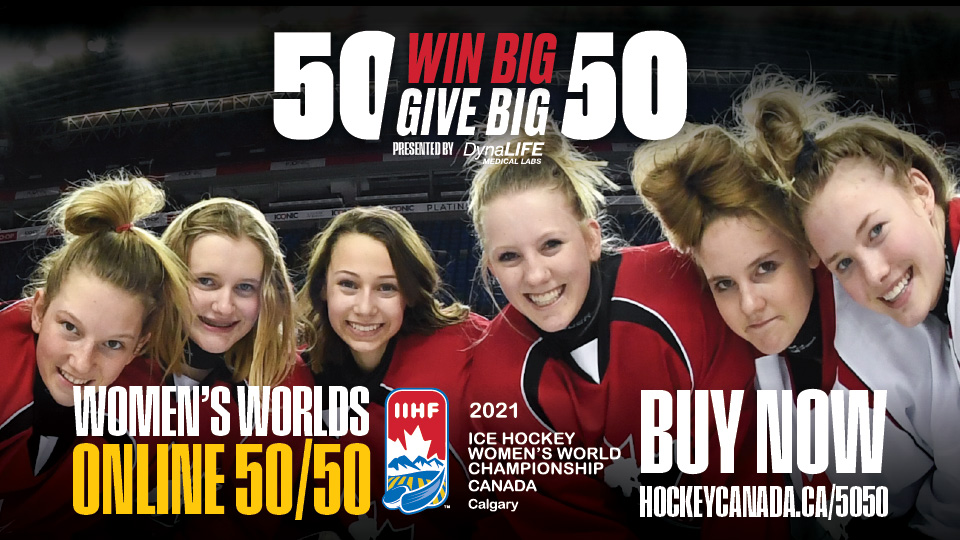 IMPORTANT! The raffle is open to all persons who are in the Province of Alberta when purchasing tickets online. Ticket purchasers must be 18 years of age or older.
How to buy:
Buying a ticket is a simple process similar to most online purchases.
Tickets are sold online during the event with draws taking place starting August 20 and open daily at 9:00am MDT and will end daily at 10:00pm MDT ending on August 31st..
Online ticket buyers will receive a receipt in their email a few minutes after purchasing. It will list all numbers associated with the purchased tickets.



---
Meet the latest Women's World Championship 50/50 Winners!
August 28 – Gerry Forbes ($171,140)
The CJAY 92 radio legend explains how he won Saturday's Women's Worlds 50/50, supporting women's hockey initiatives in Alberta.
August 26 – David Shears ($172,515)
David played a little bit of hockey growing up, but loves watching the game at every level – minor, junior and, of course, our national teams. Get to know one of our great winners, who are supporting women's hockey initiatives in Alberta!
Why did you want to purchase a ticket?
I do believe girls and women should get the opportunity to play and it means the world to them. However, it is a shame that many young girls do not get the opportunity, with not all areas and small towns having enough girls to make teams or make up leagues of their own.
How did you come to love the game?
I was a billet home for the Whitecourt Wolverines Junior A hockey team for eight years. Something I would recommend any family do if you are able, as it's a very important part of many hockey organizations. I cannot stress it enough, [billet families are] key to the survival of many hockey organizations, and without them many teams would fail. But the best side of it is all the young men and women and their families you meet and become lifelong friends with.
What do you plan to do with your winnings?
Nothing very exciting: pay off a couple bills, put a little away towards retirement and maybe a new summer car.
August 24 — Riane Hamerston ($83,450)
Riane grew up surrounded by hockey, from playing the sport herself to regularly watching her brother and father play the game. Get to know one of our great winners, who are supporting women's hockey initiatives in Alberta!
Why did you want to purchase a ticket?
My husband and I have been contributing towards the IIHF World Junior Championship for many years. With the IIHF Women's World Championship in our hometown of Calgary this year, there was a greater connection to be able to support hockey in Alberta and women within the sport.
How does hockey and organized sport impact the lives of young women and girls?
As a woman that grew up in sports since the age of three, the ability to participate in organized sport for young women and girls is absolutely everything. I know I would not be who I am today, both physically and mentally, if it weren't for sport. Being able to invest back into our own communities for more hockey experiences across Alberta will change many lives forever.
What do you plan to do with your winnings?
Putting the money away is the smart choice, but spending the money on ticket packages for future IIHF championships sounds like a better choice!
---
2021 World Junior Championship 50/50 Winners!
For the first time in World Juniors history the 50/50 draw has gone online, allowing fans across Alberta an opportunity to win big while leaving a substantial financial legacy for grassroots hockey across the province.
Meet the Albertans who have claimed the jackpots!
December 27 – Shari Mack ($241,850)
It might have been Shari's name on the ticket, but the biggest jackpot to date is being shared between eight front-line health-care workers from the Lloydminster Hospital.
The group of women, who work in the maternity unit, are strong supporters of the Alberta hockey community and most have children who play minor hockey. After what was a long and stressful year due to COVID-19, Shari says they feel extremely blessed to have had the winning ticket.
To hear from the group, watch below.