All-Access Blog: Kristin O'Neill
As selection camp reaches its final days, the forward checks in with her thoughts on the last week, on the excitement of Red vs. White, and on the resilience of the women's worlds hopefuls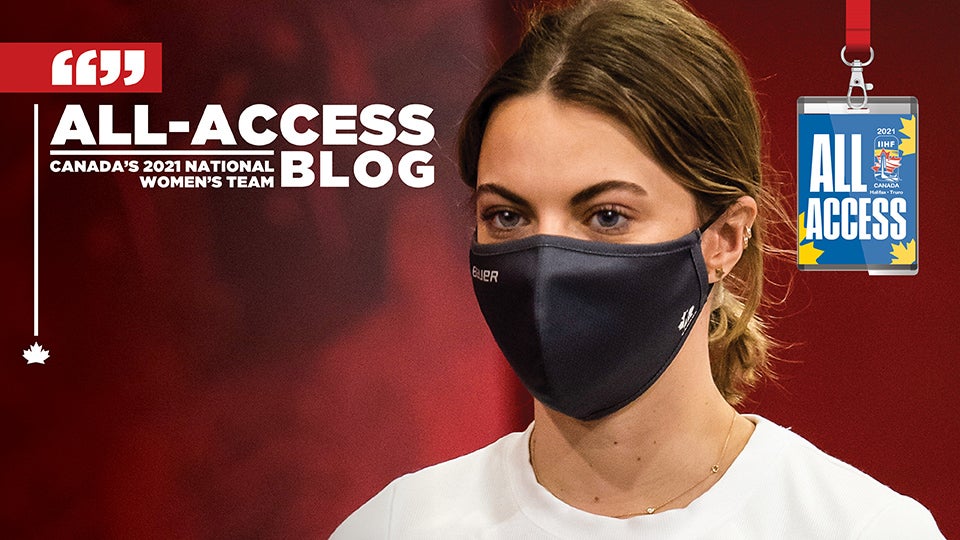 Tuesday, April 20
Hello from Halifax!
This year has been filled with ups and downs, changes and challenges. If there is anything I have learned being an athlete during these times, it is adaptability and being present. With that in mind, I'm so grateful for our group to have arrived safely and efficiently in beautiful Halifax, Nova Scotia.
The first few days of selection camp were filled with Zoom meetings, safety precautions (such as being isolated and testing for COVID-19) and alone time in our hotel rooms. With these protocols becoming the new norm for us, there has not been as much adjusting compared to the first camp of the year in January.
Fast forward a day and a half and Red and White were hitting the ice for practice! It was so wonderful to see so many familiar, big smiles on the ice. The energy was through the roof and compete levels were high. It was evident that we were all itching to play our first game!
My favorite part of the camp so far has definitely been getting to play. It's such a great feeling waking up every morning knowing you are surrounded with people who want to push you and are working towards the same goal. In the first game Sunday, Team White came out flying and left Team Red hungry for a comeback. Team Red managed to find its way to victory on Monday! With one win to each team, a huge game will be played Wednesday to finish camp.
It is very exciting to see the commitment and resilience from our group here in Halifax. Our hard work throughout this past year shows in our fast-paced, intense games.

Although the camp is far from over, I am so grateful for this competitive environment and to be back on the East Coast.
Look out for Team Red!
Stay safe,
Kristin