All-Access Blog: Erin Ambrose
The National Women's Team defenceman talks about the first day out of quarantine, how she filled her days in isolation and getting ready for Finland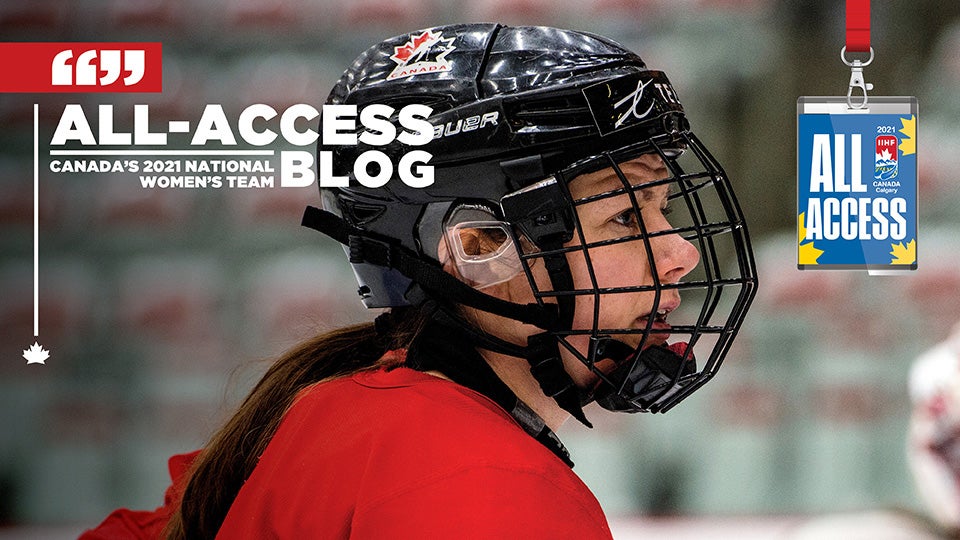 Monday, August 16
No better way to start a week off by leaving the four walls of our hotel room! After a very long five days of isolation, which felt like a lifetime, we were FINALLY able to leave our rooms this morning and interact with each other.
If you have not followed us on social media (what are you waiting for?), let me give you a brief recap of what went on during those five days! Not only did we use Zoom for team meetings, we had a few surprise Zoom treats from some Canadian legends – there were The Arkells (who performed LIVE this weekend back in my hometown), Paul Brandt and Gerry Dee (for once I wasn't the funniest person on a Zoom call), and we finished it off with an incredible talk from Jon Cooper.
Coop (since we're now best friends and on a nickname basis) was recently named head coach of the Men's Olympic Team and is coming off back-to-back Stanley Cups (not a big deal!). Hearing from such a successful coach about what it takes to lead a championship team was nothing short of incredible. I can confidently say that Coop gained some big fans, as he was the main topic at breakfast the next morning!
During some down time in the 'Q', boredom set in and we had quite a few players hit up TikTok trends. Spooner and Franky (Emma Maltais) definitely take the cake for the best quarantine TikToks – everybody else needs to take a page out of their book and up their creative game. What are you waiting for? Go check those out if you haven't seen them yet!
As a strict viewer only on TikTok, you must be wondering what I was doing during this time. Headset on, controller in hand – I was heavily into my Call of Duty time. Without a doubt, Ratty (Jamie Lee Rattray) wins MVP on the team of herself, myself, Melo (Mélodie Daoust), and Ann (-Renée Desbiens). If you are a player yourself, please send any and all tips our way. We were even fortunate enough to be joined by other Hockey Canada athletes – shout out to Jess DiGirolamo and Billy Bridges for carrying our team when we needed it most!
--
I took a brief hiatus from the blog – because we finally got to HIT THE ICE! A great first practice back full of energy, lots of puck touches and overall impeccable vibes with the crew. To be back with the group and on the ice was so exhilarating, especially knowing our first exhibition game is only two days away! We focused on some breakouts, a couple of one-on-one drills and some games to end off. Shout out to the game committee, Blayre Turnbull and Sarah Nurse, as our mini-games are continuing to get better. Tomorrow, we have another workout and our second practice. Our first opponent, Finland, is quickly approaching with back-to-back matchups on Wednesday and Friday.
Beauty sleep is needed tonight as we have our team photo before practice tomorrow and individual headshots. Let's be real though, the bun will be up in full force and maybe we will add a little makeup to feel a little special (crazy I know). Hopefully all of you can tune in to the games as we are so excited to get the tournament going!
Canadian proud always,
Erin